Modern Farmhouse Kitchens
Modern Farmhouse Kitchen
Modern Farmhouse Kitchen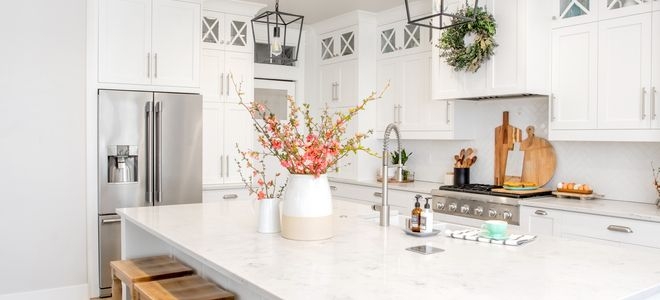 If you are remodeling your kitchen, one style you may want to focus on is the modern farmhouse kitchen. This style can be achieved with everything from farmhouse sinks, to light fixtures, to decor.
Farmhouse Sink
Farmhouse sinks have been in vogue for the last decade. Beyond just looking great, the sinks are deep which means plenty of room for dishes. The sinks are so popular now that they are used in a variety of kitchens, not just farmhouse-inspired ones.
Textured Walls
Textured walls, or patterns that give the illusion of textured walls, will give your kitchen a rustic feel. The textured wall look can be achieved with bricks or, more easily, with wallpaper. The texture adds interest to the kitchen and can add warmth to the area.
Decorative Ceilings
Decorative ceilings are an easy way to add farmhouse inspiration to your kitchen without sacrificing space. Wood beams are often found in barns and can give your kitchen that farmhouse feel.
Light Fixtures
One of the easiest, and cheapest, ways to add a farmhouse feel to your kitchen is with rustic light fixtures. Consider looking at fixtures that use brass and have an exposed bulb. This bare-bone look can make quite a statement and the rustic nature screams farmhouse.
Decor
If you have a tight space, farmhouse decor is the easy way to bring the farmhouse feel into your kitchen. This can be achieved with greenery, photos, posters, and lots and lots of wood decorations.
Wood Paneling or Shiplap
Joanna Gaines of "Fixer Upper" fame has a well-publicized love of shiplap and there's a reason: the wood wall paneling gives a wall life. Instead of a boring white wall, the wall has texture and depth to it. Shiplap or wood paneling also has a rustic feel that will aid in your farmhouse kitchen transformation.
High Ceilings
High ceilings are common in barns and give your kitchen a farmhouse feel. High ceilings are difficult to add to a preexisting kitchen, though, so if you don't already have them you may be out of luck.
Floating Shelves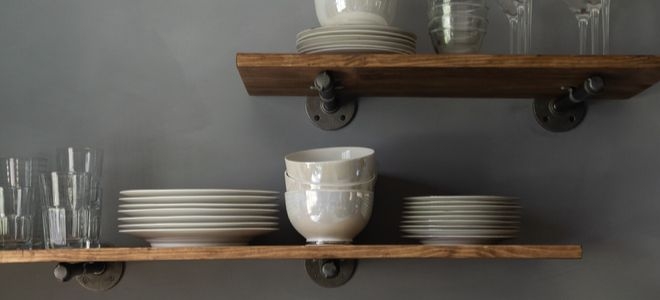 Floating shelves can also give your kitchen a bare bone, farmhouse feel. The shelves, especially when made from a rustic wood material, can be used to showcase farmhouse-inspired decor or plates, which will further add to the farmhouse feel of your kitchen.