Moisture and Mold Problems - Cleanup Methods
To ensure our content is always up-to-date with current information, best practices, and professional advice, articles are routinely reviewed by industry experts with years of hands-on experience.

Reviewed by

on Jun 26, 2023
1-4 hours

•

Beginner

•

0-100
A variety of mold cleanup methods are available for remediating damage to building materials and furnishings caused by moisture control problems and mold growth.
The specific method or group of methods used will depend on the type of material affected.
Please note that professional remediators may use some methods not covered in these guidelines; absence of a method in the guidelines does not necessarily mean that it is not useful.
Method 1 - Wet Vacuum
Wet vacuums are vacuum cleaners designed to collect water. They can be used to remove water from floors, carpets, and hard surfaces where water has accumulated.
They should not be used to vacuum porous materials, such as gypsum boards.
Only use this method when materials are still wet since wet vacuums may spread spores if sufficient liquid is not present.
Thoroughly clean and dry the tanks, hoses, and attachments of these vacuums after use since mold and mold spores may stick to the surfaces.
Method 2 - Damp Wipe
Whether dead or alive, mold is allergenic, and some molds may be toxic.
Mold can generally be removed from nonporous (hard) surfaces by wiping or scrubbing with water, or water and detergent.
It is important to dry these surfaces quickly and thoroughly to discourage further mold growth.
Instructions for cleaning surfaces, as listed on product labels, should always be read and followed.
Porous materials that are wet and have mold growing on them may have to be discarded.
Since molds will infiltrate porous substances and grow on or fill in empty spaces or crevices, the mold can be difficult or impossible to remove completely.
Method 3 - HEPA Vacuum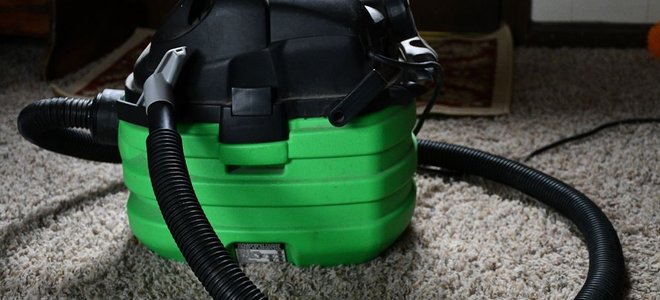 HEPA (High-Efficiency Particulate Air) vacuums are recommended for final cleanup of remediation areas after materials have been thoroughly dried and contaminated materials removed.
HEPA vacuums are also recommended for cleanup of dust that may have settled on surfaces outside the remediation area.
Care must be taken to assure the filter is properly seated in the vacuum so all the air must pass through the filter.
When changing the vacuum filter, remediators should wear PPE to prevent exposure to the mold that has been captured.
The filter and contents of the HEPA vacuum must be disposed of in well-sealed plastic bags.
Method 4 - Discard - Remove Damaged Materials and Seal in Plastic Bags
Building materials and furnishings that are contaminated with mold growth and are not salvageable should be double-bagged using six-mil polyethylene sheeting.
These materials can then usually be discarded as ordinary construction waste.
It is important to package mold-contaminated materials in sealed bags before removal from the containment area to minimize the dispersion of mold spores throughout the building.
Large items that have heavy mold growth should be covered with polyethylene sheeting and sealed with duct tape before they are removed from the containment area.
Notes About Mold Remediation/Cleanup and Biocides
The purpose of mold remediation is to remove the mold to prevent human exposure and damage to building materials and furnishings.
It is necessary to clean up mold contamination, not just to kill the mold. Dead mold is still allergenic, and some dead molds are potentially toxic.
The use of a biocide, such as chlorine bleach, is not recommended as a routine practice during mold remediation, although there may be instances where professional judgment may indicate its use (for example, when immune-compromised individuals are present).
In most cases, it is not possible or desirable to sterilize an area.
A background level of mold spores will remain in the air (roughly equivalent to or lower than the level in outside air).
These spores will not grow if the moisture problem in the building has been resolved.
If you choose to use disinfectants or biocides, always ventilate the area. Outdoor air may need to be brought in with fans.
When using fans, take care not to distribute mold spores throughout an unaffected area.
Biocides are toxic to humans, as well as to mold. You should also use appropriate PPE and read and follow label precautions.
Never mix chlorine bleach solution with cleaning solutions or detergents that contain ammonia; toxic fumes could be produced.
Some biocides are considered pesticides, and some states require that only registered pesticide applicators apply these products in schools.
Make sure anyone applying a biocide is properly licensed, if necessary.
Fungicides are commonly applied to outdoor plants, soil, and grains as a dust or spray-examples include hexachlorobenzene, organomercurials, pentachlorophenol, phthalimides, and dithiocarbamates.
Do not use fungicides developed for use outdoors for mold remediation or for any other indoor situation.
H.R. Helm is an accomplished DIY craftsman. He has been DIY since childhood and is now a septuagenarian. He is experienced in wood and metal construction, having designed and built several houses and metal buildings. He built every permanent building on his current homestead and did all the plumbing and electrical work. He has several years experience as a professional cabinet builder, and he is an accomplished auto repairman, having operated an auto repair business for many years. He currently has a home shop where he sharpens and rebuilds saws, repairs lawn mowers, mobility scooters, hydraulic jacks, and anything else that comes along. He also builds custom tools for metal working. Invention prototypes are another of his many accomplishments. He owned and operated a manufacturing business building Compact Utility Vehicles for homeowner use. H.R. enjoys making jams and jellies during fruit season along with cooking meals. He is committed to outdoor cooking in a Bar-B-Q pit he welded together several years ago. He maintains fruit and nut trees along with helping his wife with a vegetable garden. He farmed commercial garden produce for several years. It helps to have over 50 years of farming and ranching experience. Employment/Education Highlights ASE Certified Master Auto Technician Certified Welder Cross country truck driver -- over dimensional freight Design Engineer/Project Manager for injection molded plastic company Bus Driver/Substitute Teacher Inventor with two patents (weight training – anti-rollback for manual wheelchair) BS in Industrial Technology