Mother's Day Gift Guide for the DIY Mom
To ensure our content is always up-to-date with current information, best practices, and professional advice, articles are routinely reviewed by industry experts with years of hands-on experience.

Reviewed by

on May 04, 2015
Gift Her Something She'll Really Use
Gift Her Something She'll Really Use
If your mom is a DIYer, chances are she's always got a project in the works, whether it's planning a fall garden, decorating her patio for summer entertaining, or remodeling a room in the house. We've curated six gift ideas for the mom who isn't content to sit around doing nothing (although we all know she deserves to do just that).
1. Gingham Utility Tool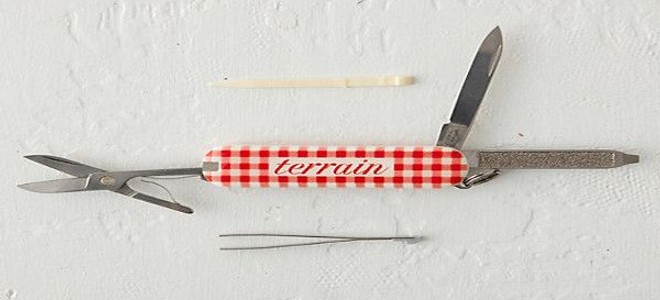 Moms always seem to be prepared for every emergency, but if yours doesn't have a utility knife like this one, now's your opportunity to give her that extra edge. This feminine gingham-printed option has a blade, nail file, screwdriver, tweezers, and toothpick. Once she attaches it to her key ring, she'll wonder how she ever went without it.
2. "Vintage" Canning Jars
If your mom loves to cook or likes anything vintage-looking, she'll enjoy a set of these limited edition Ball Heritage Collection canning jars, which are tinted a gorgeous spring green color. The wide mouth jars are perfect for storing food, putting on display, or stylishly housing a collection of nuts and bolts.
3. Heritage Garden Hose
With its lightweight construction resistant to kinks, cracks, and leaks, this garden hose will make any outdoor watering task easy for your mom. It comes in four beautiful colors to brighten up her daily garden chores.
4. Tabletop TIKI Torch
Help your mom prepare for outdoor entertaining season with a set of these table TIKI torches, perfectly sized for small surfaces. The glass variety pictured here comes in three color options, or choose a tropical palm tree print.
5. Canvas Tool Bag
This beautiful canvas tool bag combines classic style with rugged durability. The metal steel frame, hinge, and rivet reinforcement ensure that it will hold up over the years, while the leather accents and clean lines are timeless style. Why should your DIY mom store her tools in anything less?
6. Small Citrus Tree
Skip a bouquet of roses this year and give your mom a plant that will last longer than four days. A potted mini citrus trees will be a welcome gift if your mom enjoys gardening or goes through a lot of lemons, limes, or other citrus in her daily cooking.
Angela Sabrowsky was the content manager for DoItYourself for over 5 years. Growing up with a DIY dad and grandpa who can build houses from the ground up, she's still trying to shake off the sawdust. She got her start in the publication industry working on her high school newspaper in Redondo Beach, California, where she spent deadline nights designing page layouts and editing news stories. Following that initial exposure into journalism, she became the managing editor at her award-winning community college newspaper. It was there she met her husband, who beat her in a popularity contest to become editor-in-chief (she may still be bitter about that). Based in Los Angeles, Angela enjoys spending time on the West Coast with her family, whether it's camping in the Sierra Nevada Mountains or crabbing in Washington's Puget Sound on the 4th of July (an annual tradition for the past 20 years). She also loves vintage furniture and is always scouring estate sales for her next great find. Her favorite DIY project is a raised planter bed she built with her dad in the backyard for a small vegetable garden. She can't wait to start growing my own tomatoes and watermelon in the summer!

Dawn Hammon has thrived in freelance writing and editor roles for nearly a decade. She has lived, worked, and attended school in Oregon for many years. Dawn currently spends her days convincing her children she is still smarter than them while creating new experiences with her husband of 24 years.  Her multiple interests have led her to frequently undergo home improvement projects. She enjoys sharing the hard-earned knowledge that comes with it with the audience of DoItYourself.com. Dawn and her sister make up a power-tool loving duo that teaches classes to local women with the goal of empowering them to tackle their fears and become comfortable with power tools. Tapping into her enthusiasm for saving money and devotion to sustainable practices, Dawn has recently launched a passion project aimed at connecting eco-friendly products and socially-responsible companies with consumers interested in making conscientious purchases, better informing themselves about products on the market, and taking a stand in favor of helping to save the planet. When she is not providing stellar online content for local, national, and international businesses or trolling the internet for organic cotton clothing, you might find her backpacking nearby hills and valleys, traveling to remote parts of the globe, or expanding her vocabulary in a competitive game of Scrabble. Dawn holds a bachelor's degree in psychology, which these days she mostly uses to provide therapy for her kids and spouse. Most recently, I worked for a small local professional organizing and estate sale company for four years where I learned a ton about organizing and/or disposing of just about anything. She was raised in a tool-oriented, hands-on, DIY family. Her dad worked in the floor covering business and owned local floor covering businesses, so of course selling floor covering was one of her first jobs. Her brother was a contractor for about 30 years and site supervisor for Habitat for Humanity. I worked with him often, building decks, painting houses, framing in buildings, etc. With her sister, she holds power tool classes to empower women who are scared or have never used them. Not quite homesteaders, she did grow up with a farm, tractors, motorcycles, expansive gardens, hay fields, barns, and lots of repairs to do. Plus she and her family preserved foods, raised cattle and pigs, chopped and hauled firewood, and performed regular maintenance on two households, outbuildings, fencing, etc. As an adult, she has owned two houses. The first one she personally ripped out a galley kitchen and opened it up to the living area, plus updated every door, floor covering, and piece of trim in the place. In her current home, she's tackled everything from installing real hardwood flooring to revamping the landscape.