Mother's Day Gift Guide for the DIY Mom
To ensure our content is always up-to-date with current information, best practices, and professional advice, articles are routinely reviewed by industry experts with years of hands-on experience.

Reviewed by

on May 04, 2015
Gift Her Something She'll Really Use
Gift Her Something She'll Really Use
If your mom is a DIYer, chances are she's always got a project in the works, whether it's planning a fall garden, decorating her patio for summer entertaining, or remodeling a room in the house. We've curated six gift ideas for the mom who isn't content to sit around doing nothing (although we all know she deserves to do just that).
1. Gingham Utility Tool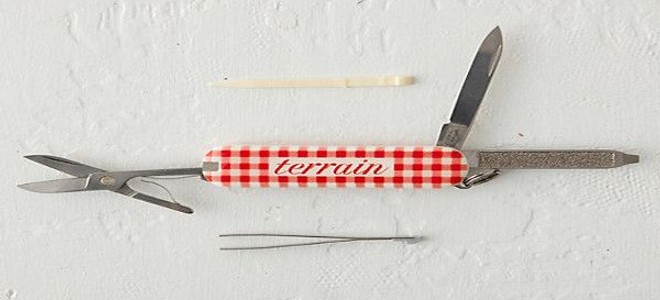 Moms always seem to be prepared for every emergency, but if yours doesn't have a utility knife like this one, now's your opportunity to give her that extra edge. This feminine gingham-printed option has a blade, nail file, screwdriver, tweezers, and toothpick. Once she attaches it to her key ring, she'll wonder how she ever went without it.
2. "Vintage" Canning Jars
If your mom loves to cook or likes anything vintage-looking, she'll enjoy a set of these limited edition Ball Heritage Collection canning jars, which are tinted a gorgeous spring green color. The wide mouth jars are perfect for storing food, putting on display, or stylishly housing a collection of nuts and bolts.
3. Heritage Garden Hose
With its lightweight construction resistant to kinks, cracks, and leaks, this garden hose will make any outdoor watering task easy for your mom. It comes in four beautiful colors to brighten up her daily garden chores.
4. Tabletop TIKI Torch
Help your mom prepare for outdoor entertaining season with a set of these table TIKI torches, perfectly sized for small surfaces. The glass variety pictured here comes in three color options, or choose a tropical palm tree print.
5. Canvas Tool Bag
This beautiful canvas tool bag combines classic style with rugged durability. The metal steel frame, hinge, and rivet reinforcement ensure that it will hold up over the years, while the leather accents and clean lines are timeless style. Why should your DIY mom store her tools in anything less?
6. Small Citrus Tree
Skip a bouquet of roses this year and give your mom a plant that will last longer than four days. A potted mini citrus trees will be a welcome gift if your mom enjoys gardening or goes through a lot of lemons, limes, or other citrus in her daily cooking.
Angela Sabrowsky was the content manager for DoItYourself for over 5 years. Growing up with a DIY dad and grandpa who can build houses from the ground up, she's still trying to shake off the sawdust. She got her start in the publication industry working on her high school newspaper in Redondo Beach, California, where she spent deadline nights designing page layouts and editing news stories. Following that initial exposure into journalism, she became the managing editor at her award-winning community college newspaper. It was there she met her husband, who beat her in a popularity contest to become editor-in-chief (she may still be bitter about that). Based in Los Angeles, Angela enjoys spending time on the West Coast with her family, whether it's camping in the Sierra Nevada Mountains or crabbing in Washington's Puget Sound on the 4th of July (an annual tradition for the past 20 years). She also loves vintage furniture and is always scouring estate sales for her next great find. Her favorite DIY project is a raised planter bed she built with her dad in the backyard for a small vegetable garden. She can't wait to start growing my own tomatoes and watermelon in the summer!

H.R. Helm is an accomplished DIY craftsman. He has been DIY since childhood and is now a septuagenarian. He is experienced in wood and metal construction, having designed and built several houses and metal buildings. He built every permanent building on his current homestead and did all the plumbing and electrical work. He has several years experience as a professional cabinet builder, and he is an accomplished auto repairman, having operated an auto repair business for many years. He currently has a home shop where he sharpens and rebuilds saws, repairs lawn mowers, mobility scooters, hydraulic jacks, and anything else that comes along. He also builds custom tools for metal working. Invention prototypes are another of his many accomplishments. He owned and operated a manufacturing business building Compact Utility Vehicles for homeowner use. H.R. enjoys making jams and jellies during fruit season along with cooking meals. He is committed to outdoor cooking in a Bar-B-Q pit he welded together several years ago. He maintains fruit and nut trees along with helping his wife with a vegetable garden. He farmed commercial garden produce for several years. It helps to have over 50 years of farming and ranching experience. Employment/Education Highlights ASE Certified Master Auto Technician Certified Welder Cross country truck driver -- over dimensional freight Design Engineer/Project Manager for injection molded plastic company Bus Driver/Substitute Teacher Inventor with two patents (weight training – anti-rollback for manual wheelchair) BS in Industrial Technology