New Year, New Home Furnishings! Top Trends to Inspire Your Redecorating
To ensure our content is always up-to-date with current information, best practices, and professional advice, articles are routinely reviewed by industry experts with years of hands-on experience.

Reviewed by

on Nov 22, 2022
Every year that comes and goes brings us new and exciting interior design trends. Some last a lifetime while others pass us by, but who really knows what's going to stick around or simply fade away? Besides, even the tackiest trends come back eventually. Right?
No worries, though. Home furnishing trends for the new year are sure to get you excited for your next redecorating project! They're full of color, shape, and texture, bringing boldness and creativity back into our homes as a stark contrast to the minimalist trends of recent years. Never have we seen so many different styles being expertly blended together in one room.
Hand-crafted
Hand-crafted furniture and accessories are going to be more popular than ever this year. Everything from pottery to macrame plant holders to one-of-a-kind side tables; handmade items are taking the design world by storm and consumers are loving it!
It's awesome that so many people are supporting small businesses and entrepreneurs by purchasing their hand-crafted furniture and decor items. And rightfully so, because when an item is made by hand it instantly becomes a unique object that's full of character.
With sites like Etsy, eBay, Amazon selling hand-crafted items, it's easier than ever to find uncommon pieces to for a one-of-a-kind look.
Metal Fixtures
The interior trends of the 1950s and 1970s have been growing the past few years, bringing adding retro bling to modern homes. All over the place you'll find this growing movement of mixing metals, including warm metals such as copper, bronze, and rose tones, as well as cool metals like chrome, nickel, and stainless steel.
Metal is popping up all over people's homes, from fireplaces to counter tops, chairs to tables, bed frames to tiles, and even walls! One amazing thing about the metal trend this year is that designers are actually encouraging people to incorporate assorted metals together in the same room.
Kitchens and bathrooms are a great place to start incorporating this trend. Simply switch out some of your old fixtures, such as door handles and faucets to update your look.
Metallic Accents
Along with adding metal to your home, metallic furniture and accessories will be a huge trend in the new year. Sparkly, shimmery, and shiny are coming onto the design scene on all things from textiles to accessories.
These decadent pieces can completely change the look of a space by adding a touch of regality to it. However, unlike previous years, people are now encouraged to mix and match different metallic pieces, just like with metal. The trick is to compliment the room though, not compete with it.
If you're not interested in switching out your stainless steel appliances, you can still update your kitchen with copper, gold, or colorful metallic accent pieces. If you're feeling up to the challenge, try adding a new backsplash or floor tiles for some added shimmer. Just remember, the key is to mix materials for a not-so-matching look.
A Touch of Glamour
Glamorous furniture is here to stay, but it should be incorporated in small doses. Velvet is making a big comeback in the new year, and it is giving furniture a whole new type of glamorous appeal. Mixing materials and textures is the key to getting the glam look just right. Incorporate velvet and metallic fabrics into your design with wooden accent pieces for a multi-textured look.
Alternatively, having mirrored and metallic accents is still on the rise in the design world, as previously mentioned. However, many designers are saying homeowners should only be adding a little bit of glam to each room. If you're not looking to change up your larger furniture pieces, limit your redecorating to just a few pieces in a room. Mix some natural looking furniture, like wood or cotton, with metal fixtures and metallic or glittery accent pieces for a glamorous touch that is just right.
It's also important that you incorporate it into your home in unexpected ways to keep it fresh and exciting. Just be careful not to overdo it.
Geometric Shapes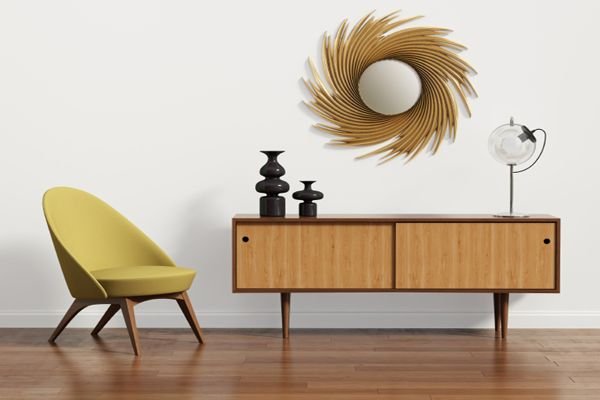 Geometric design trends are becoming increasingly popular once again. And why not? Geometric shapes add instant visual interest, creating a space that looks totally retro but in an ultra-modern way. However, when I say geometric, I don't just mean patterns in textiles, wallpapers, and accessories. I'm also taking about the very shape of furniture itself.
Interesting designs, shapes, and architecture of furniture is all the rave, mostly focusing on mid-century pieces and influence. Iconic designers like Charles and Ray Eames, Herman Miller, and Adrian Pearsall have paved the way for this trend with geometric pieces that have become an iconic.
The main thing to look at is the overall shape and style. You want clean lines with either very abrupt edges or organic curves and geometric shapes with contrasting materials, such as a clean, boxy wooden table with a curvy cloth chair and quirky accent pieces.
Bold Colors
Seasonal color rules are going out the window! Instead, bolder is better this year! I'm talking bright oranges, lustrous purples, deep blues, and acid yellows. The most popular color to look for right now is pink!
The color pink can easily be matched with a variety of colors in a variety of shades, and it can be used in just about any room in the house.
Nature
Nature will never go out of style, but this year people are more determined than ever to bring the outdoors in! Not only are houseplants of every variety growing in popularity, but also people are into natural woods, organic cottons, corks, stones, marbles, and all things eco-friendly.
Easy houseplants to get you started include cactus, succulents, and spider plants. Group them together in various hand made pots, and you'll be able to combine multiple trends all in one corner!
Animal Prints
Animal prints are showing up in unexpected places. Various bird feathers are still a popular pattern, but it's the exotic birds that people are really digging, especially peacock feathers.
And birds aren't the only animals that are influencing interior design. In fact, wild cats like leopards and tigers are still favored, along with zebra and snake skin prints. These animals patterns often look great when mixed with natural materials as well as glamorous pieces.
As far as faux animal fur goes, this soft and furry trend is on the rise. People are really loving this comfortable and fun texture, adding it to their rooms in the form of carpets, throws, and seat covers.
The key here is to keep it classy, not trashy. For a fun DIY project, reupholster old furniture with animal printed fabrics that keep on theme with this year's glamour trend.
Floral Prints
Finally, thanks to the 1990s coming back in fashion, pop culture, and design, we're going to continue to see more floral patterns back in furniture, pillows, wallpaper, and artwork. Not just any flowers though: big, oversized, pink flowers.
Alternatively, leafy floral patterns are staying on trend. Don't go overboard with florals though. A floral printed wallpaper goes great with bold patterns and brightly colored accent pieces.