Power and Electrical Outage Essentials
To ensure our content is always up-to-date with current information, best practices, and professional advice, articles are routinely reviewed by industry experts with years of hands-on experience.

Reviewed by

on Jun 26, 2023
Generally, electricity outages are not planned. They are caused by a technical fault or a storm, so it makes sense to have a survival kit on hand ready to go in case this occurs. This is our advice on what to pack in advance and why. The first point of advice for when the power goes down is to not panic. If you have the kit and a bit of a plan what to do with it, then that's a great start.
Assessing the Situation
If the power goes out in your home, can you see if your neighbors still have lights on? Are the street lights outside working? If the answer to these is no, then there is a general power issue. If the power outage is localized to your house, then check the fuse board to see if anything has tripped. Electricity can be lethal, so take all safety precautions. If in doubt, get an expert involved. Make sure you have the emergency telephone numbers on hand of your energy suppliers.
Before the electricity is restored, some measures need to be taken to prevent any damage to the appliances in the property that can happen if there is a power surge. Switch off all appliances at the socket if possible and this will protect against blown fuses. So turn off televisions, satellite boxes, game consoles, washing machines, tumble dryers, electric ovens, refrigerators, lights, and computers. It makes sense to turn off all wall sockets if at all possible.
If a storm has caused water ingress such as flooding, then be very careful. Electricity and water do not mix and you should stay away from wet areas, such as a flooded basement.
Wherever possible, the kit should be placed into a waterproof container so that it's protected in the case of flooding. (Wet matches, for example, are not very useful.) As the hours of daylight in the northern hemisphere are reduced in the winter, artificial light is therefore at a premium so the survival kit also needs to be in a place where it can be easily found.
Equipment to Have on Standby
Wind up Radio
A radio tuned in to the local stations will allow you to keep up to date with the latest on the power outage or storm, which is especially helpful when you don't want to drain your phone battery with constant check-ins. Battery or solar-powered radios are fine, as long as you've got the power source.
Flashlights and Lanterns
A head torch is great for getting around and a lantern is useful for lighting bigger areas. If you don't have a lantern, you can always strap a flashlight onto a gallon bottle full of water, with the light pointing toward the water. The water disperses the light into a useful glow. If there are children in the house, they should each have their own flashlight. This will help keep them calm during the emergency.
Mobile Phone
A working phone is vital and all measures should be made to ensure that you keep your phone running. However, the charge usually only lasts a day (if that!). Once you realize you're in an emergency situation, switch to battery-saving mode and close all applications down. It's now possible to get wind-up phone chargers that will give your phone battery a boost when you need it. If you live in a natural disaster-prone area or a remote area where snow can affect the electricity supply, then having one of these is a essential.
First Aid Kit
Include in this scissors, bandages, tape, pain killers, etc. Any individual and critical medicines should be kept where they are easy to find. Without light, rummaging through cupboards is not ideal.
Candles
As a minimum requirement, allow for five candles per day. These can serve as light sources should your battery-operated flashlights fail to work.
Matches / Gas Lighter
You will need matches or lighters for candles. (And maybe a camping stove.) If you're using a gas lighter, then ensure it's not nearly empty.
Batteries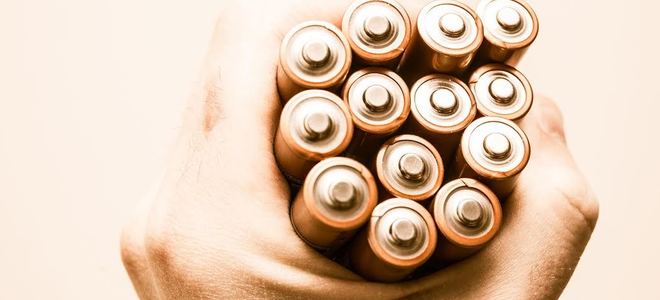 Check your equipment and make sure you have enough spare batteries in all of the different shapes and sizes to keep you going for a few days.
Water
Account for a gallon of water per person, per day.
Food
Convenience here is key. Stockpile non-perishable food such as cans of tuna or beans, which can both be eaten cold. (Don't forget the can opener!) In the event of an emergency, eat the food from your refrigerator first, which will only go to waste the longer the power is out.
Clothes
Ensure suitable, warm clothes are easily accessible. Layers are usually better for warmth—and don't discount using a sleeping bag. They pack away well and can be warmer than several blankets.
The Aftermath
As a footnote, when the power does come on, check that everything seems to be working and go through each room, switching on one device at a time so that the electrical system doesn't have to cope with a high load all of a sudden. If you are unsure of anything, then call the electrical supply company. Safety is the prime concern.
Jack is a contributing writer for DoItYourself.com. He has experience researching and creating a wide range of home improvement and garden projects, and especially enjoys learning about energy efficiency.

H.R. Helm is an accomplished DIY craftsman. He has been DIY since childhood and is now a septuagenarian. He is experienced in wood and metal construction, having designed and built several houses and metal buildings. He built every permanent building on his current homestead and did all the plumbing and electrical work. He has several years experience as a professional cabinet builder, and he is an accomplished auto repairman, having operated an auto repair business for many years. He currently has a home shop where he sharpens and rebuilds saws, repairs lawn mowers, mobility scooters, hydraulic jacks, and anything else that comes along. He also builds custom tools for metal working. Invention prototypes are another of his many accomplishments. He owned and operated a manufacturing business building Compact Utility Vehicles for homeowner use. H.R. enjoys making jams and jellies during fruit season along with cooking meals. He is committed to outdoor cooking in a Bar-B-Q pit he welded together several years ago. He maintains fruit and nut trees along with helping his wife with a vegetable garden. He farmed commercial garden produce for several years. It helps to have over 50 years of farming and ranching experience. Employment/Education Highlights ASE Certified Master Auto Technician Certified Welder Cross country truck driver -- over dimensional freight Design Engineer/Project Manager for injection molded plastic company Bus Driver/Substitute Teacher Inventor with two patents (weight training – anti-rollback for manual wheelchair) BS in Industrial Technology