Protect Your Home & Additional Hidden Costs
Sponsored Content
Owning a home is a major lifetime achievement for most Americans, but it can also be one of the most significant sources of stress, especially if you're unprepared for all the unexpected costs. And unfortunately, many new homeowners are.
Most homeowners are surprised by the actual cost of homeownership, with millennials almost twice as likely to be blindsided. That's because most of the expenses we tend to focus on with homeownership come during the home buying process. However, the many less-obvious costs associated with homeownership can really affect your monthly bottom line.
In reality, closing on your dream home is only the beginning of your financial obligations—and we're not just talking about obvious payments like your mortgage and homeowner's insurance. While each extra expense might seem small, all those hidden expenses add up and cost most homeowners between $7,000 and $16,000 a year. So, wondering what part of making your house home-sweet-home will end up costing you the most?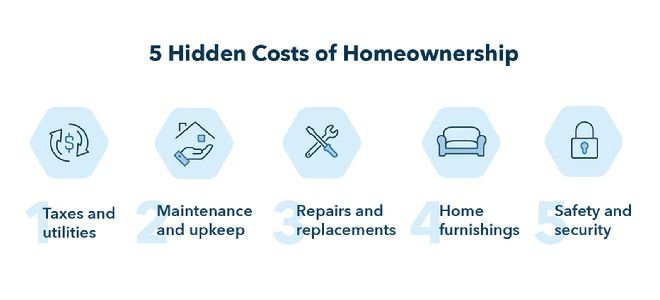 Here are the five most expensive hidden costs of homeownership:
1.
Taxes and Utilities
Sure, most homeowners go into the buying process knowing they'll have to pay property taxes and cover utilities. But they aren't necessarily prepared for the fluctuations or calculations these unavoidable costs often involve. For example, you may have budgeted for your home's property taxes at the time of purchase, but did you account for their inevitable increase? You should. There is a far greater likelihood that your property taxes will go up than remain static or decrease, and several factors can cause a spike at any time.
These include changes in your home's value due to standard reevaluations or cosmetic or functional renovations, neighborhood and school district changes, and state or local budget increases. You may be unable to count on salary raises to keep up with the cost of multiple years of significant property tax hikes.
When it comes to utilities, first-time homebuyers might be shocked at how expensive they can be, regardless of whether they had to pay them as renters. You'd be surprised how much living in a bigger space or using inefficient units and systems can change your bills. In fact, homeowners spend about $2,000 more annually than renters on utilities.
2. Maintenance and Upkeep
Most homeowners know that repairing or replacing a major home system, like central air, could cost a pretty penny. Still, you may not expect the actual amount of time and money involved in general home upkeep and maintenance. Almost 45% of homeowners said maintenance costs were higher than they expected. According to a recent study, the average homeowner spends over 200 hours a year on upkeep, and 40% of homeowners think their home involves too much maintenance.
From maintaining your lot and house's exterior to refinishing floors and fixing light fixtures—home upkeep is costly. And don't forget, you also have to purchase and maintain the equipment and tools for the job! No wonder 1 in 3 homeowners spends $5,000 or more a year on maintenance, with millennials being three times more likely to do so.
A good rule for handling these costs is setting aside 1% of your home's value annually. But that could prove difficult considering many homeowners have very little savings—about 20% have $1000 or less. So, it's no surprise that 57% of homeowners said they'd need to borrow money to pay for a $5,000 emergency repair.
3. Repairs and Replacements
Maybe you didn't consider having to make unexpected repairs or replacements when you budgeted for your home. Unfortunately, they are pretty much unavoidable. Nearly half of all homeowners have already dealt with repairing or replacing one of their homes' most expensive appliances or systems. 1 out of 2 had to put it on a credit card.
Some repairs for major home systems and structures are pricier than others. Repairing a roof can cost over $7,000, which is nothing compared to the possible $22,000 it would take to replace. And replacing most household appliances can end up costing thousands each. Depending on the age of the appliances already in your home when you purchased, appliance replacement is something you may have to deal with sooner rather than later. Even appliance repair services, something 46% of homeowners need annually, don't run cheap.
4. Home Furnishings
Maybe you brought the couch you've had since college and your flea-market-find dining set from your apartment. But chances are your new home is larger than your previous digs. You'll likely end up needing to furnish entire rooms you didn't have before. While furniture shopping can be fun, be aware that the cost adds up quickly and can easily dent your savings. It costs an average of $16,000 nationally to furnish an entire house. That doesn't include essential electronics like television sets, which can cost between $50 and $60,000 if you go for a full home theater system. Even if you don't need a new TV, remember that Americans spend an average of almost $1,500 yearly on new electronics.
Suppose you purchase your furniture or electronics using a credit card or by opening a line of credit at the store. This adds yet another cost to your list of home-owning bills. Many homeowners are unaware that replacement isn't the only option. Still, when faced with the cost of replacing or repairing big-ticket electronics, choosing the latter could save Americans a total of $40 billion annually.
5. Safety and Security
Feeling safe in your home is an essential part of reducing the stresses of homeownership—so is having a safety net that doesn't add to your financial woes. You may not consider a home security system or changing the locks essential, but the peace of mind they bring may improve your quality of life. If you decide these services are worth your time, here's what to expect: home security systems typically cost between $280 and $1,109. Changing locks costs an average of $500 per lock, depending on type.
Even if you don't choose to pay for either of these services outright, you may still end up dealing with their associated costs. For example, your needing locksmith services may seem like a long shot. But in the United States, more than 16,000 home and car lockouts occur daily, and more than 20 million people lose their car and house keys annually. You could be one of them when you least expect it.
Another safety cost that may not be top-of-mind is the possibility of paying a home insurance deductible in the case of a Loss claim. While we sincerely hope it never happens to us, about 1 in 20 insured homes has a claim each year. The average home insurance deductible costs between $500 and $1000, about a fifth of what most Americans have in savings.
What's the Solution?
The cost of homeownership can be high even after the down payment, but that doesn't mean it's a bad deal. It just means you need to be prepared. While that sounds easy in concept, preparing can be harder than it sounds. Sure, you can gauge when you need to replace appliances or systems, but many of the other costs associated with homeownership are impossible to predict. So, what can you do?
Home Hero by FIMC™ offers an affordable suite of benefits that protect you from the unexpected costs of homeownership without tying you into a long-term plan and without deductibles. Offered as a monthly subscription for under $20 a month, a Home Hero membership gives you much-needed cost protection for the most important things in your life.
Home Hero's benefits are practical and made with the realities of everyday life in mind. Protect big-ticket plug-in items, pay less for home security, and make sure you, your loved ones, and even unexpected guests, are covered in case of an emergency. Home Hero membership includes cost assistance for locksmith services and discounts on a host of different services and products ranging from pet and childcare to everyday entertainment.
If you're looking for added protection from the hidden costs of homeownership that won't dent your savings—Home Hero is a win-win!