Selecting Paint for a Metal Door
To ensure our content is always up-to-date with current information, best practices, and professional advice, articles are routinely reviewed by industry experts with years of hands-on experience.

Reviewed by

on Jun 26, 2023
If you have a metal door in your home that doesn't go with the rest of your decor, don't fear, you can paint it. There are certain kinds of paint that are great at covering metal so you can decorate your home the way you want.
Latex Paint
When painting metal, always use exterior latex paint. Latex paint is acrylic paint mixed with a binding agent that completely covers the surface, staying with it no matter what. This means that when you use latex paint, the paint will move with the door when it expands and compresses in warm and cold weather. If you paint your metal door with another kind of paint, it may crack and may not be weather resistant.
Exterior latex paint is slightly more robust than interior latex paint. This could be crucial if you live in an area with extreme weather. All latex paint is water resistant so there is no need to waterproof your metal door. At the paint store, you'll see a lot of different kinds of paint to choose from but since painting on metal is a bit trickier than just painting a wall, don't be afraid of splurging on high-end latex paint. It may cost a bit more, but the last thing you want is a cracked paint job.
Clear Lacquer
A clear lacquer would be a great choice if your door is a combination of metal and another material, such as wood. Clear lacquer works well on multiple surfaces, so this would save you having to paint your door with many different kinds of paint and will save you time and money.
Spray Paint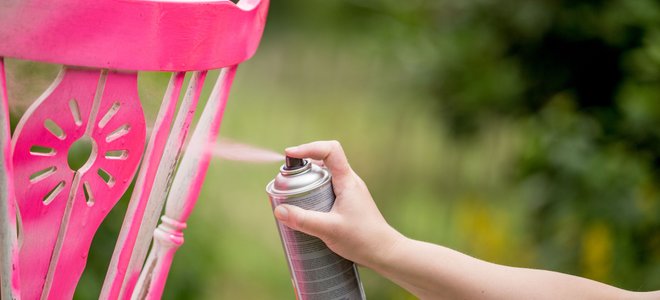 A relatively new product is latex paint that comes in a spray can. Not only can you get an evener surface with a spray can rather than a roller or brush, but the paint is made especially for outdoor surfaces, which is perfect if your metal door faces the outside. Make sure you check the label and that it includes anti-corrosive materials so that it won't rust or bubble after application.
Car Paint
If you have gone to the paint store and searched on the Internet but still can't find the right paint for your metal door, you may want to take a trip to a car accessories store. All paint for cars is formulated to bond to metal, is waterproof, and is perfect for outside-facing metal. You may also be able to find a wider variety of colors and finishes at a car accessories store than at a home improvement store.
Commercial Paint
Another option if you're having trouble finding the right paint for your metal door is to look at commercial options. Some websites and heavy duty equipment stores will sell paint that is specially formulated for metal construction and mining equipment. Because of construction regulations, you can be sure this paint will be robust and long-lasting.
Bituminous Paint
This paint is tough and contains the same resin that is used in asphalt. This kind of paint is great for metal, concrete, and stone but only comes in black.