Selecting Lights For Your Sauna
To ensure our content is always up-to-date with current information, best practices, and professional advice, articles are routinely reviewed by industry experts with years of hands-on experience.

Reviewed by

on Jul 17, 2021
6-8 hours

•

Advanced

•

100-300
Sauna lights are essential for setting the correct mood for relaxation and stimulation. If the sauna does not have a window, some form of synthetic lighting will need to be installed. Lighting equipment is a key element of accessorizing a sauna and there are many different types and styles of lighting that can be used.
Sauna Light Types
There are a variety of lighting types which can be installed for use in a sauna. It is important to choose the correct lighting effects as this will set the tone of the sauna experience.
Different colored lights can be an ideal sauna accessory and change the mood of the experience. Red and yellow lights used in the morning will invigorate the body and energize it for the day whilst blue and green lights create a relaxed and soothing setting which is ideal when used at the end of the day. These types of sauna lights can be mixed and matched in color and are available from specialist lighting centers.
Fiber Optic Lighting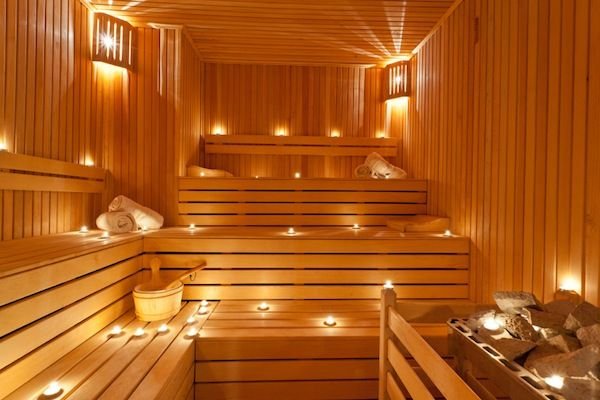 Fiber optic lights can be a very safe option for sauna lights as they are fed through the ceiling or even the walls. The main light source is mounted outside the sauna and this subsequently projects light through the fiber optics into the sauna. These lights can be operated through a standard 220v to 240v AV lighting system. Fiber optic lights are flexible, which means they can be altered to change the ambience within the sauna room.
LED
LED sauna lights are low in cost to operate and easy to install. They can be used to shed light from the ceiling, the wall, under the bench and even onto the floor. LED lights can be obtained from many lighting centers and can be purchased as sauna light kits which make installation very manageable. The light supply unit is fed into the mains system and each LED light source can span two meters.
Sauna Light Style
Selecting the style of sauna light will help to create a certain ambiance in the sauna. There are many styles of light fixtures to choose from.
Round lights are perhaps the most common style of sauna lights as they are easy to fit and create a wide spectrum of rays. Round lights can be set to hang flat against the sauna wall or the ceiling and are controlled from outside the sauna.
Tubular lights are a very popular type of sauna lighting because they create an even spread of light with very little shadow. This is because of their cylindrical shape which can be designed to hang the height of the sauna.
Location
Sauna lights can hang from the ceiling, the walls, or even the floor with each location creating a different feel to the sauna. They can be installed randomly or in a set pattern, which makes them particularly flexible. Do not install any lighting directly above the stove or heater as this could cause damage to the sauna and the property.