Shabby Chic Style Guide
To ensure our content is always up-to-date with current information, best practices, and professional advice, articles are routinely reviewed by industry experts with years of hands-on experience.

Reviewed by

on Nov 22, 2022
Shabby chic is like stepping into a time warp. A cross between the past and the present. It is a mix between antique pieces and new pieces made to look antique. Once you do one room, it kind of escapes out into the rest of the house until you are swallowed up in beautiful, timely pieces that flow throughout.
The Adventure Begins
Transforming your home into a shabby chic style is fun and a good way to upcycle -- especially if you enjoy flea markets and garage sales. The adventure comes in your imagination. What can you find at a flea market that can be turned into a piece to fit in with the rest of your new finds?
What to Look For
Look for good quality pieces. Solid wood furniture is the easiest and sturdiest to repaint and distress. I'm not going to say this is easy, but it's well worth the effort once completed. You may want to strip some of the old paint or stain off before you repaint. After all, you want it to look shabby chic -- not just shabby!
Clean it up. Repaint, and then rub some of the paint off where there would be some normal wear, like around the handles and on the edges of drawers. If you really want to make it look old, take a chain and whack the top or sides to put a few dents in the piece. (Do the chain thing before painting, of course.)
Use Appliques

Appliques were a favorite for furniture in the past. Cherubs, roses. or any kind of flower on furniture was a mainstay in bygone times. Once the appliques are in the position you want them, they will need a clear top coat to keep them in place and to keep them from wearing off. Mod Podge them on, and then let that dry before adding more coats. Make sure each coat is dry before applying another thin coating.
Shabby Chic Is More Than Just Furniture
To attain a shabby chic theme, you want everything in the room to have a soft feel to it. For colors, go with pastel shades like sky blues, pinks, and different shades of white.
Shabby chic furniture is not complete without making the rest of the room come together in the same way. The curtains, linens, walls, and light fixtures all play a part in making the room come together and achieving the theme.
Cottons and linens bleached out or stained with tea may sound unpleasant, but once in the room their antiqued look will only add to the effect. Earth tones are a wonderful addition as well. Lots of ruffles on the bed skirt and curtains will enhance the look, too. Long flowing material hung off windows or mirrors or even headboards make a room look dreamy.
Other Things to Search for
I once found an old rusty bird cage at a flea market. I thought it would make a great addition to house a hanging plant. As it turns out, the wheels of invention started turning on the drive home and that bird cage got turned into a chandelier. I painted it white, took off the bottom and mounted it upside down over the ceiling light. I added a few silk roses to coincide with the roses on the bed spread and voila -- an old era was reborn.
A small three-step wooden ladder could be painted, appliqued, and put in a corner to house a plant or act as a night stand. Turn an old wooden door found at the flea market into a headboard: paint it, distress it, and turn it lengthwise to mount above the bed for a lovely addition.
Old wooden shutters, if long enough, could be turned into room dividers. If the shutters are small, you can turn them into a place to hold mail. Simply paint, distress, and hang right to a wall. Insert mail or other papers into the slats for an inventive organizer.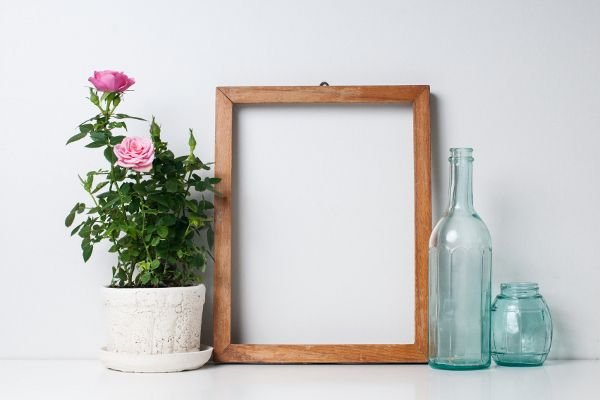 Hang antique frames on the wall for a vintage-looking gallery. Don't bother putting pictures in them if you don't want to -- the frames themselves are the decoration. Drape a flowing, cotton swag between them to add a little charm.
An old two-pane window has a lot of potential. Paint the frame to match the rest of the room. Then paint one of the windows with chalkboard paint and cover the other with cork. Now you have a perfect piece to add to the kitchen information center. Mount it right next to your shutter mail holder.
Not Just for Indoors
Some people let the shabby chic theme leak out into their yard. Quaint gardens with cement benches, small cherub fountains, and a stone path to your front door will only add to the easy-going shabby chic style of your home's interior.
There are so many items out there just waiting to be re-purposed into the shabby chic style. Use your imagination. Like I said before, once you start on this decorating journey it will be hard to stop. You'll see purpose and invention in every old piece of furniture or home fixture.