The Easiest Smart Home Tech to Adopt in Your Home
To ensure our content is always up-to-date with current information, best practices, and professional advice, articles are routinely reviewed by industry experts with years of hands-on experience.

Reviewed by

on Jun 26, 2023
The news and shopping websites are riddled with new and exciting products that are known to make your home "smart." With so many models and different products on the market, it can be intimidating to transform your home into a smart home that makes life more convenient in ways you didn't even know existed.
Luckily, below is a guide to the easiest smart home technology that you can take advantage of in your home to ease into the smart home era and to make your life easier. Plus, smart home features can add value to your home.
Why Invest in Smart Home Technology?
Before we delve into the different products to take advantage of, you may be wondering why you should invest in smart home technology in the first place. Smart technology makes life in your home more convenient. Smart home automation allows homeowners the ability to control items around the house with the push of a button. It also allows the luxury of controlling these technologies remotely.
Another advantage of making your home smarter is the added level of safety. Security cameras, doorbells with a camera, and other features make it easier to monitor your home and ensure that nothing is amiss, even when you're not physically there. These smart home technologies provide peace of mind along with the added level of convenience they are accompanied by.
Now it's time to discuss just how to add smart home technology into your household. Below are technologies that can be easily integrated, yet make a large difference.
Smart Speakers
Smart speakers are all the rage nowadays, and for good reason. This is a relatively reasonably priced purchase that can make a large difference in your home. With their built-in assistants and Bluetooth technology, this addition not only provides entertainment, but can act as a central hub to use voice commands for other smart home devices.
Some notable speaker models that make a great smart addition to your home are the Amazon Echo — which has the assistant Alexa built in — and the Google Home speaker, which is powered by Google Assistant.
Smart Plugs
Smart plugs are an easy and relatively inexpensive way to make your home more efficient. These little household additions simply plug into your existing wall sockets, giving users the control of the flow of electricity. You can plug anything you want into the plug which will give you the power to turn these items on and off remotely by using an app on your smartphone or tablet. These plugs also have the added benefit of allowing users to set up timers so that plugged in items automatically power off at a certain time or after being on for a certain amount of time. If you're interested in using smart plugs, check out those by iHome or Belkin.
Smart Locks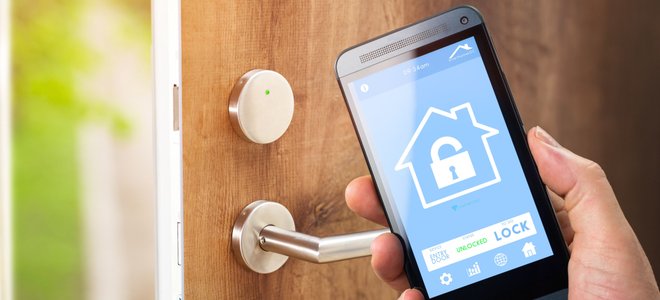 The safety of your family is endlessly important, and smart locks allow you to have the peace of mind you crave when it comes to protecting those that you love in the walls of your home. These devices are installed on the doors of your home and allow users to grant access to your home via an app. Some models of smart locks can also be controlled via voice triggers. These add a further level of security to your home and also make it more convenient to let maintenance crew members in when you may not be there or to prevent children or other family members from getting locked out of the house.
There are a range of stellar smart locks on the market, but some of the best include the Lockitron Bolt and the August Smart Lock.
Creating a home that takes advantage of technology from all angles starts with just a few simple changes. These products are some of the easiest to purchase, install, and put to use in your daily life. With the addition of these products, you'll soon be on your way to having an endlessly convenient smart home.