The Easiest Way to Tile a Backsplash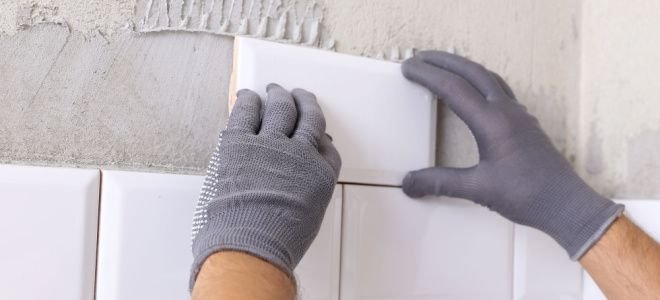 2-40 hours

•

Intermediate

•

50-500
Backsplash can be used behind any counter or appliance where you want to protect the wall. Install it in the bathroom, mudroom, laundry room, and kitchen.
What Is the Easiest Kitchen Backsplash to Install?
Vinyl Stick-On
The very easiest option for changing the look of your backsplash or installing a new one entirely is to use a vinyl stick-on. These materials are available in numerous designs and colors, so you can swap out drab for "wow" with minimal effort. Look for everything from foil to geometric to solid designs.
You can install them in sheets for a faux tile appeal or use them to change the look of the tile you already have. For example, you can cut squares in half and stick them to existing tile for a geometric look that adds pizzazz to an otherwise solid wall. You can also install them over paint, wood, and other surfaces.
Vinyl stick-on backsplash is easy to install since they are literally attached with a peel-and-stick method, just like a sticker. Larger sheets can be installed like wallpaper.
In addition to installation ease, this vinyl material is easy to maintain since it wipes clean easily, and it can be peeled off without damaging the surface.
Stick-on backsplash is a perfect temporary solution for renters or the homeowner who isn't yet ready for a major renovation.
Paint
Another easy solution is to simply paint on a new backsplash. With some practice you can create any number of detailed designs on your wall by marking out the design and applying paint.
Beadboard
Beadboard is yet another alternative for an easy backsplash installation. This material comes in pre-fabbed kits or as sheets you can cut to size.
Beadboard made of MDF is likely to swell in moist environments so go with the vinyl beadboard if you're using it in a laundry room, bathroom, or kitchen. Vinyl beadboard can be painted any color you choose and it's easy to clean.
Faux Tile and Brick
Faux tile and brick sheets also make a "splash" for your backsplash project. Both materials come in thin sheets that are easily stuck to the wall. These products can be installed over your existing backsplash or plain wall. They are inexpensive and lightweight so they can be held in place with a bit of liquid nails.
Flooring
Flip your room upside down by installing laminate flooring on the wall. This option can make use of supplies you may already have or can find inexpensively at the end of some else's home improvement project.
You can also check your local Habitat for Humanity for random boxes. Measure your space so you have enough material since finding matching laminate flooring might be challenging. Use the same tongue-in-groove technique applied on the floor to create a backsplash in your space.
However, rather than floating materials like during flooring, using laminate on the walls will require you to tack them in place with the aid of a brad gun.
Tile
If you choose to go with a real tile, you'll still have some decisions to make. The options for tile backsplashes are ever growing. You can choose tiles that look rustic, or resemble stone, pebbles, river rock, or slate.
There are myriad colors to choose from, and even a variety of finishes. Like paint, backsplash tiles are available in finishes that range from matte to shiny.
Tile materials also come in a wide range of sizes and shapes. You can go with small squares, larger squares, rectangles, and more. For the easiest installation, go with a basic design.
If you want to test your skills or stretch your artistic muscles, you can get very creative with a geometric shape that is dispersed throughout the backsplash. For example, you can place a hexagon staggered across the rows, equally spaced every four tiles.
Of course, the easiest type of tile backsplash to install is via prefabricated sheets of tile. Even these are available in different forms. You can easily find real ceramic tile pre-mounted to a backer strip. These tile sheets deliver pre-spaced tiles that are consistent in look and layout. All you have to do is line them up side by side.
Whatever kind of tile you decide on, the installation process is similar for all of them. You'll need to measure, cut, and mount each tile or sheet. Here are some detailed directions for installing a tile backsplash.
Step 1 - Measure Your Space
You'll need to know exactly how much area you're covering with your tile. Take accurate measurements of every space you plan to add backsplash tile. Measure across the space as well as from top to bottom.
If you have a stop point, like the bottom of a cabinet, you'll know the exact height of your backsplash. However, if you have an open wall, you'll need to decide on a stop point. There may be another obstacle in the room that helps with that decision. For example, maybe you have a window sill to work up to.
If there isn't a designated stop point, use your material as a measurement. Make the task easier with fewer cuts by laying out your plan so you can end with whole tiles rather than having to cut each one to height.
In a designated space, such as between a cupboard and the countertop, you'll need to rip (cut lengthwise) tiles. You may need to rip tiles along the top and the bottom, which adds a lot of cuts and takes more time.
If possible, always lay out your tile backsplash to take advantage of the full tile size instead.
Step 2 - Factor in Material Waste
Most home improvement project tutorials will advise you to factor in an additional 10% of materials to account for waste. This holds true when installing tile backsplash as well.
You will make many odd cuts, as well as end and top pieces. The cutoffs may not be usable in another area (although they are perfect for mosaic work, so don't throw them out at the end of the project).
However, there are many ways to minimize material waste. For example, an efficient layout will put those cutoffs to work.
If you've ever done flooring, you know to use the cutoff from one board to start the next row. If your seams are staggered, you can do the same thing with tile, and it makes use of the partial tile.
Another way to reduce waste is through careful planning. As we mentioned above, if you have flexibility in your design, simply use whole tiles from top to bottom. The same is true when working from side to side. If there's no designated stopping point, simply make your rows a width that uses whole tiles.
With your plan in hand and your measurements made, source your supplies, and you'll be ready to get started.
Step 3 - Figure Out Where to Start
The layout of your room heavily influences the starting point for your project. If you're adding tile backsplash to the corner of a room, you'll begin at the corner and work out in both directions.
However, if you're working down a long wall, begin in the middle of the wall and work toward the corners.
For rooms with a central focal point, like a window, start at that point and work out in either direction. This will help balance the look of your tiles.
Step 4 - Protect Your Surrounding Areas
Like any home project, there's a potential to make a mess when installing a tile backsplash. You don't want to damage your existing countertop, appliances, sink, or adjacent walls while you work.
To protect the spaces below your tilework, lay down a thick layer of newspaper, paper bags, garbage bags, sheets, or other protective material. Just make sure the material doesn't cover any area on the wall you plan to tile.
Step 5 - Set up a Wet Tile Saw
Ceramic and porcelain tile can be cut with a saw blade. However, the action creates heat, which leads to problems. To solve this issue, a wet saw throws water on the tile during each cut. The water provides adequate cooling, so the saw blade doesn't create sparks or burn marks.
The wet saw works like a table saw, with one exception. At the bottom of the saw there is a reservoir that holds water. Make sure the water is in place before use. Also ensure the saw is stable on a hard surface. If you're using saw horses, be sure to mount the wet saw so it doesn't slip off during use.
Step 6 - Get Started
Measure and mark the center of the wall, if that's where your project begins. Then dry fit the bottom row of tiles. Measure and mark the end pieces and make the required cuts. Remember to use tile spacers in between each tile. This will allow the space needed for grout later in the project.
Once the row is dry fit, apply tile adhesive to the back of each tile using a trowel. Then press each tile into place.
Put a level on the tiles as you work to ensure a square and level finish. If your first row is off level, the effect will multiply with each subsequent row, so it's a very important step.
Again remember to use tile spacers around all sides of each tile, including the bottom where they meet the counter.
Tip: When cutting end pieces, be sure to factor in the space taken up by the spacers. For example, for a single end piece, you'll have a spacer on each side. If you're using ⅛" spacers, subtract ¼" from the measurement and make your cut based on that.
Once the row is in place and leveled, remove any tile adhesive that has squeezed out. Do not allow adhesive to dry on the sides or front of the tile.
Step 7 - Continue Tiling
The bottom row is your foundation. From there, you'll simply continue the process as you move up the wall. You can create visual interest with your layout by staggering the tiles, or you can leave clean vertical lines by stacking the tiles directly over one another.
Each row may bring a different challenge. For example, the wall might be slightly wider at the top than the bottom, or you may encounter the edge of a cabinet or an outlet you need to cut around.
Take it slow and double check each placement as you work. It's much easier to make adjustments along the way than to rip out tiles to repair the pattern later.
Step 8 - Tile Cutting Tips
After measuring for a cut, apply painters tape to the tile for an easy, visual cut line. This also helps avoid chipping during the cut.
Always cut tiles with the face up. This protects the surface since the saw blade is most likely to create ships as it leaves the bottom of the tile.
If you need to cut out a corner or other section of the tile, such as when installing around a light switch, take your time and use a tried and true method.
Start by cutting into the section from each side with the wet saw. Then create strips of tile by making several cuts in the area you'll be removing. For the finish work, grab a pair of tile cutters and snip away each of the strips. Clean up the cut using the hand tool.
Step 9 - Cure and Grout
Allow your tile project to sit for a few days before removing the tile spacers. You're now ready to grout.
You can mix your own grout or buy a premixed version. Use a grout float to spread the grout across the surface, pressing it into the spaces with a diagonal motion. Grout begins to dry quickly, so work in small sections.
Once you have a section covered in grout, use a damp, clean, and well-squeezed tile sponge to wipe away the excess grout on the surface of the tiles.
If you notice areas of missing grout, repeat the process. Then move to the next section.
Step 10 - Caulking
Use caulking to seal around the outside of the project where tiles meet into cabinets and the countertop. This adds a finished look and protects the backsplash from water damage.
Super Tile Installation Hack
Instead of working with mastic or other pasty tile adhesive, consider using a tile adhesive mat. This little helper is like a big piece of double-sided tape.
To install, start by cleaning the wall really well and allowing it to dry thoroughly. Cut the adhesive mats to size. Peel a bit of the backing off at the top.
Be sure to look at the sides of the mat. The side that has a thicker area with no detail is meant to overlap with the next piece of matting material so be sure to face it in the right direction.
Place the sticky part of the mat to the top of the section you plan to tile and press it into place as you continue to peel the backing off the bottom section. Use the same technique if you're working side to side instead.
Install as many sections of adhesive mats as you need, overlapping them as you work. Then press them all into place.
From there, remove the top layer of covering and stick tiles in place. Remember to use spacers. Grout in the same way as outlined above.
Hopefully you have a better idea of what your backsplash will look like, but if you still need more ideas, check out When to Use a White Backsplash and Creative and Cost-Effective Kitchen Backsplash.