The Top Tool Brands to Invest In
Tool brands are a matter of personal choice, but with more options than ever, it can be hard to narrow it down. Price, reliability, and brand power all play a factor, and while there's no one-brand-fits-all, there are ones that are known for performance, while others focus on affordability.
The main thing to consider when choosing a tool brand is how you will use them. For contractors or workers that need tools daily, performance and reliability are going to be the most important feature, while the average DIY homeowner may settle for something less powerful if it's in their price range.
Sometimes you can strike a balance and find the perfect amount of performance at the right price. This article will go over the top tool brands to invest in, so you can make the right decision.
Check the Warranty
Before we dive into some of the best brands, no matter what your project goals are, you want to be clear about the tool's warranty. This can get a little confusing when it comes to what the store offers versus the manufacturer, so ask these questions before jumping in.
Often, the store allows returns up to 30 days no questions asked, but they may also sell extended warranties on items for an extra cost. If the manufacturer has a one-year warranty already in place, there's no need to double dip as they likely will cancel each other out.
If you want a two or three-year warranty, then buying one through the store may make sense, but some tool brands go even further than one year for parts and labor, so keep that in mind.
Makita is one of the top brands to invest in for all kinds of power tools as they offer a variety of affordable and professional items. Makita has been around since 1915, but their reputation as a reliable power tool brand was cemented in the 60s.
Their LXT sub-compact brushless series includes over 300 tools that all work with a compatible 18V battery system. The best feature is their lightweight handling, and the company boasts that you get the power of an 18-volt tool with the handleability of a 12-volt.
This can be a real game changer for anyone who wants a lighter drill that can still perform with the rest of the big hitters. Makita tools are sleek and stylish with a blue, black, and white design.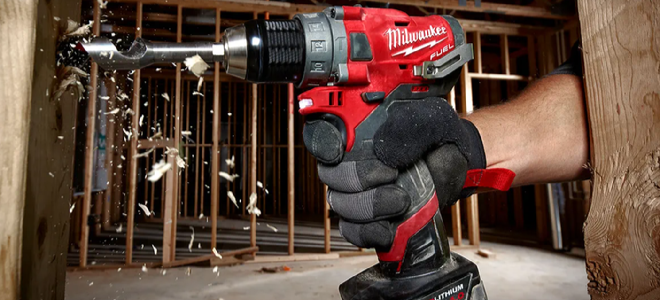 Milwaukee is another well known brand for high-performance power tools and has been around since 1924. The company switched hands a few times, and are now owned by Techtronic Industries. Loyalty has remained strong as performance never suffered.
The company started their "One-Key" platform in 2015, which offers ways to control your inventory, report from the jobsite, and utilize advanced tool control where you can customize tool performance and maintenance.
This platform is really popular with larger companies that have many tools out on jobsites, or want to consolidate performance across different crews.
Even if workers don't need this kind of technology, red and black Milwaukee tools are popular with electricians, mechanics, HVAC techs, and other professional contractors. While the average DIY-er doesn't need something this powerful, a Milwaukee power tool would be an investment that lasts for decades.
DeWalt is right up there with Makita and Milwaukee in producing performance-based power tools that are meant to last. The company is one of the original power tool makers, and with a re-branding in the 90's, the yellow and black tools are spotted on jobsites everywhere.
DeWalt's tool accessories are popular among contractors as they were one of the first to offer stands, toolboxes, and other jobsite supports like radios. Power tools can be found with 12V and 18V technology as well as 20V and even 40V for tough tools that can perform outdoors.
Their "flexvolt" technology allows for some of their tools to switch between 20V and 60V which is a game changer for some contractors. The average homeowner won't need this kind of technology, though.
Bosch has a reputation for being one of the toughest tool brands on the market that you can count on for quality and performance. The German company was founded in 1886 by Robert Bosch, and is now 90 percent owned by the Robert Bosch Stiftung charity organization.
Good deeds aside, Bosch is a brand you go to when you are doing some heavy-duty hammer-drilling, or concrete-breaking. These tools don't come cheap, but that's because they'll last a long time without letting you down.
Meant for professionals, most DIY-ers won't need a Bosch in their tool shed unless they plan on doing a particular job that requires a heavy-duty tool.
Hilti is another hard-hitting brand that provides tough, long-lasting tools for professional contractors. You won't find their tools in your local hardware store, either, as these tools are used for big construction projects like bridge and skyscraper repair, but also residential foundation and masonry work.
While the average homeowner won't need a Hilti brand tool, it's worth noting that if you do happen to invest in the brand, they're known for some of the best customer service in the industry.
This isn't always the case with tool brands, so if you are looking to purchase some high-end equipment, know that Hilti has your back.
Festool is a specialty brand that focuses on tools for cabinet making. These tools are expensive, but worth it for anyone in the business of making furniture, or wanting to get into it.
Their tools are easy to use and portable, while maintaining excellent performance and reliability. Festool introduced a dust collection system that is very popular for anyone using things like sanders and routers that create a lot of dust.
These dust extractor systems are portable and will attach to different tools with vacuum nozzles and HEPA filters to make your jobsite one of the cleanest around– which will make homeowners happy, too.
Irwin is the go-to brand for hand tools and smaller items like drill and auger bits. The company started in 1885 by Charles Irwin and is now owned by Stanley Black & Decker.
Once American-made, Irwin tools are now made mostly in China, however their durability and reputation has stood up to these changes. You can buy Irwin hammers, wrenches, knives, levels, pliers, and squares knowing that they'll last.
Their price point may be slightly more expensive than others, but for these smaller items, it's often worth investing in something that will last and perform well. For this reason, the Irwin brand is popular among both DIY-ers and professionals, alike.
Crafstman was once a brand synonymous with Sears, but after its closure, the brand was bought by Stanley Black & Decker. The company still makes tools in the US, and showcases a variety of power tools, as well as outdoor equipment.
The Weedwacker brand is probably the most popular outdoor trimmer, and it's Craftsman-owned. You can also find decent snowblowers and other outdoor equipment for good prices.
Their hand and power tools will get the job done without breaking the bank, but most professionals wouldn't invest in Craftsman tools, as they aren't meant for everyday use. The Versa System is popular with homeowners, as it helps organize tools and equipment geared towards the DIY workshop.
Black & Decker was founded in 1910, and is another common tool brand that most people have heard of.
Owned by Stanley Black & Decker, this brand is marketed towards the homeowner who needs a few cheap tools to get jobs done around the house, while its sister brand DeWalt is marketed toward the professional.
You can find the most popular hand and power tools, as well as outdoor equipment and home appliances like coffee makers and vacuums for affordable prices, but don't expect to see them on many jobsites.
Husky tools were founded in 1924 and then acquired by Stanley Tools in 1986. They are now exclusively owned and sold by Home Depot, where you can find an extensive line of hand tools, power tools, and storage options.
Investing in Husky tools would make sense to any contractor or homeowner who frequents Home Depot. Maybe you have loyalty cards with them, or just like doing business there because it's close.
Either way, Husky serves the broader market of power tools, and most people can find something to meet their needs. That said, they aren't known for high performance and reliability like some of the other top brands.
With exclusive store brands, you get what you pay for. However, you can often strike a balance between good performance at a decent price, which is where most consumers land.
Ridgid is often confused as Home Depot's line of tools because they're only sold there. However, the company is officially owned by Emerson Electric. Ridgid is another entry-level brand that also offers a good selection of power tools for various price points.
Some of Ridgid's power tools have similar power and capability as other top brands, but with a more competitive price point. While Ridgid competes with professional-grade tools, their performance and reliability is usually edged out slightly by brands like DeWalt.
Still, they're enticing for homeowners or professionals looking to add something to their repertoire at a good price.
Ryobi is another tool brand that you could only find in Home Depot stores for years, but now you can also get them at Walmart. Neither store owns the company, however, as they are owned by the same parent company as Milwaukee: Techtronic Industries.
Milwaukee is the company's brand that's geared towards professional grade tools, while Ryobi offers a decent line of discount items for the homeowner and hobbyist at one of the cheapest price points.
Their "One Plus" line up of 18V tools offer a streamlined collection of popular power tools that can all use the same battery. They even work with older Ryobi 18V tools, which is enticing if you've already invested in the brand.
Just don't expect any heroics from these tools: they're great for DIY projects, but not daily use.
Lowes exclusively owns Kobalt, just like Home Depot owns Husky, so you can only find it in Lowes stores. Make no mistake, this discount brand packs performance when compared to other affordable lines like Craftsman and Ryobi, and can be a great investment for the homeowner and hobbyist.
Kobalt is one of the newer brands, so it doesn't have as many tools in its lineup as Ryobi, but the XTR line of cordless power tools offers everything that the amateur and semi-professional would need at a good price.
Just don't invest in their battery-powered snowblowers, as the technology still leaves most people frustrated – and Lowes customer service desks full of their returns.
Hart tools is the new kid on the block, sold exclusively at Walmart, but owned by Techtronic. Don't expect anything different than the other store-exclusive brands in terms of power and reliability, but their prices may entice people to make a switch.
Hart has produced a line of 20V power tools and 40V outdoor tools and equipment like chainsaws and lawnmowers. While the battery power may be there, the tools are not meant for professional grade use, and are only recommended for homeowners and DIY projects.
Their three-year limited warranty on all power and outdoor tools, and Walmart's return policy of 90 days gives this brand another step-up on the rest of the discount brands out there, but they haven't been around long enough to know the final verdict.
Consumers like to get most of their power tools from one brand since most batteries are interchangeable, and you can often find deals when you buy two or more tools together. This can be great for a drill/ impact driver combo, or sets that include reciprocating saws, circular saws, and carrying bags.
While battery-powered drills are the norm these days because of convenience, not everyone needs a portable circular saw, and corded tools have their advantages.
Simple things like the way the tool feels in your hand can be the most important aspect when making a decision, even if it means buying something that costs more.
On the flip side, a contractor doesn't always need an expensive tool in their line-up if they are only using it once or twice a year, in which case, one of the big box store brands could do the trick.
Tool preference will always be subjective, but these top tool brands have options for both the homeowner and contractor to invest in, based on budget and type of work being done.
When you purchase through links on our site, we may earn commissions at no cost to you.