These 9 Beautiful Groundcovers Make Lawn Care Easy
We love groundcovers for their variety and their beauty, but they also have the added bonus of ease of maintenance—as long as you've properly prepared the site. If lawn care just isn't your jam, check out these ideas for some cool lawn alternatives.
1. Creeping Thyme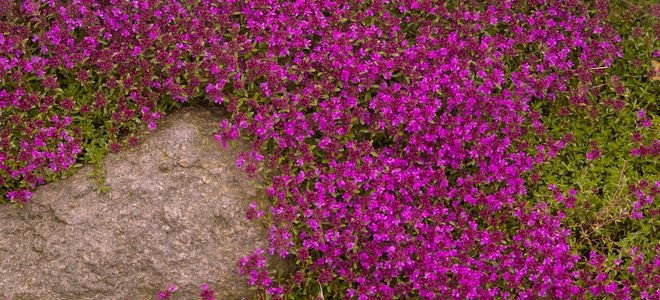 This fragrant edible is fast-growing and tolerant of frequent foot traffic. It forms sprawling, dense mats that hungry deer will leave alone. A robust carpet of creeping thyme can flower prolifically, turning that evergreen groundcover into a drift of rolling lavender, attracting not only the attention from passersby, but also that of much-needed pollinators.
2. Sedum
Sedums come in a variety of colors and have attractive succulent foliage with pretty flowers. They are drought resistant and suited to milder climates, but some of the semi-evergreen varieties can tolerate colder temps. Choose low growing varieties that stay around four inches tall for a spectacular show during the winter doldrums.
3. Candytuft
It may have fallen out of favor, but we've never been the types to let current trends dictate our lives. Be the first on your block to bring back this lovely evergreen that greets each spring with a mass of white flowers. It tolerates temps down to -30 degrees, spreads quickly, and enjoys full sun and well-drained soil.
4. Bugleweed
Another cold hardy ground cover, this one gets eight to ten inches tall, forming thick mats for an attractive, living mulch. You can find them in a plethora of colors including bronze, purple, and variegated. And if the pretty leaves aren't enough for you, just think of the graceful stalks of purple flowers that await you in the spring.
5. Dwarf Mondo Grass
While it might still look like grass, this evergreen groundcover offers a richly colored green that forms a mounded carpet two to four inches tall. It likes both sun and shade, and is drought tolerant. But if you'd rather go for something completely different... take a look at black mondo grass.
Yes, you read that right. This grass is black or can also be dark bronze with thick strappy leaves, and it's presence in your landscape makes one heck of a statement. Because it's so imposing, we urge you to use it with caution, but do use it! Combined with bright or variegated foliage in the background, maybe some chartreuse creeping jenny or some charming heather, what could have been an oppressive landscape of oneness is now vibrant and striking.
Use it as a border for your groundcover beds and lead the eye around that stunning garden. Don't be surprised when summer rolls around and brings on a flush of dark purple flowers on tall spikes for even more added interest.
6. Hens and Chicks
You may familiar with succulents in containers, but en masse it creates a rugged groundcover for xeriscaping or any place where drought-tolerant plants are appreciated. It offers winter interest through its myriad colors and range of foliage and is propagated easily through offsets from the mother plant (hence, her "chicks"), so you can start with a smaller patch and add to it as the "mother hen" adds to her brood.
7. European Ginger
Lawns in shady areas can sometimes be problematic, suffering from moss or bare patches due to lack of sun. Don't worry, we've got you "covered." Yeah. We went there.
This shade lover has beautiful, fleshy heart-shaped leaves that are amazingly deer resistant. It's a low (not over six inches tall) and slow grower, so you may have to wait a while for it to take off. But on the plus side, for those of you living in cooler climes, this little plant would love to shack up with you since heat (even in the shade) is not its friend. Plant it for a lush patch in a secret spot in the shade.
8. Lamb's Ear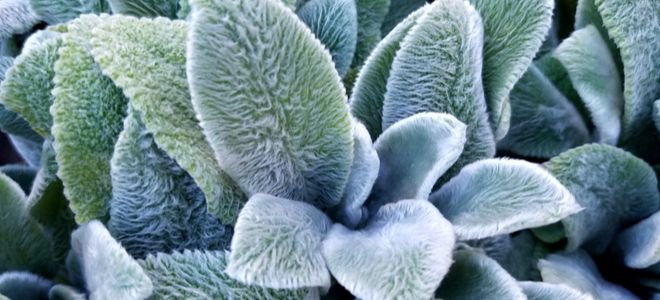 It doesn't take much imagination to figure out why it's called lamb's ear. The velvety-soft leaves are a silvery gray and a wonderful foil against the dark greens and vibrant colors of the garden. It isn't picky, tolerating a variety of soil qualities, and doesn't mind hanging out in the heat. Even in climates like the cold and wet of the Pacific Northwest, lamb's ear persists, often melting down into a brown mess, but returning in full glory when spring and summer roll around again.
9. Roman Chamomile
Roman Chamomile Seeds on Amazon
The apple-y fragrance of this plant should make you want to plant it in more places than just a container. It's also the variety you'd use for tea, so maybe save a section of it where you won't tramp all over it. The pretty, daisy-like flowers attract much-needed pollinators, and while it would appreciate full sun, it won't be mad if you give it a little shade.
We're not saying get rid of your lawn. Go ahead and channel your inner Hank Hill for the best lawn on the block. But if you'd rather find a way to cut down on lawn maintenance, creating an interesting landscape that will be the envy of the neighborhood, groundcovers might be a way to go.
When you purchase through links on our site, we may earn commissions at no cost to you.