This Season's Top 10 Pool Accessories for Summer Fun
Summer is upon us and temperatures are skyrocketing! Millions of us are planning our days centered around our pools in hope to cool down, relax, and socialize.
Summer is also the time to make your pool more inviting by accessorizing with the season's must-haves. However, knowing how you can spruce up your pool isn't always simple. Many people get stumped when trying to take their pools to the next level.
We are here to help with the top 10 pool accessories you need to get your hands on this summer.
1. Floating LED Jellyfish Lights
Check out pool floats on Amazon.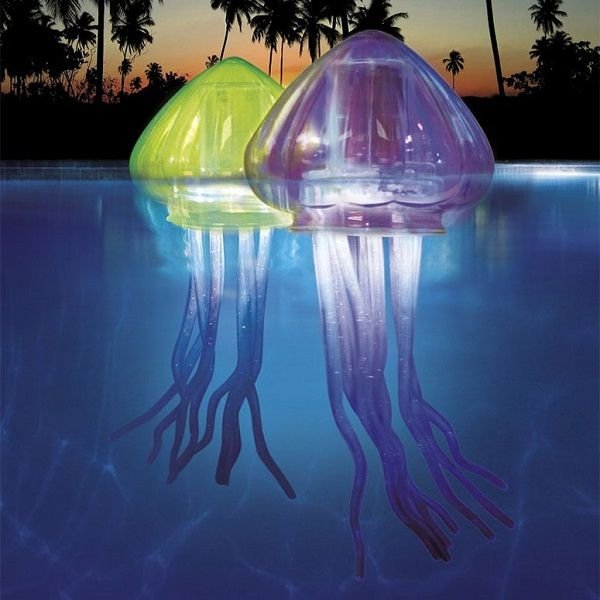 Image source: Amazon
Sea creatures in your pool— say it isn't so! Well, technically they're only plastic... but still, pretty cool!
These lovely little LED Jellyfish Lights will float about in your pool, brightening your day and even your night! And rest assured, they won't be stinging you or your guests any time soon!
2. Floating LED Speakers
It's time to bring your A-game to your next pool party. What better way is there to add entertainment than with some floating LED speakers?
Crank up some tunes to liven up your get together and add even more light to your already well-lit pool. Or, listen to some music while you relax on a float on your day off.
3. Food-themed Pool Floats
Let's face it: we are a nation of food lovers. So, why not celebrate our love of the munch by bringing the food into the pool? Well, not literally bringing the food into the pool; a freshly grilled burger won't taste great dipped in chlorine!
Food-themed pool floats are breaking the mold of swans, chairs, and rings. We are seeing tons of inflatable pizza slices, pretzel rings, hot dogs... and the list goes on. These pool floats are not only fun additions to your pool accessory collection, but also great summer BBQ food inspiration!
4. Remote-controlled Drink and Chip Holder
Image source: Home Wet Bar
Need we say anymore? This little gadget is like having your own personal butler deliver your drinks and snacks right to your side from the comfort of your own pool. Gone are the days of jumping out of the pool to top up your tipple of choice.
Be sure to rope in the assistance of a friend on the poolside—you know, to actually make the drinks—and rest assured in the satisfaction of limitless pool sunbathing and swimming! (Just be careful where you splash!)
5. Floating Ping-Pong Table
Image source: Brookstone
Bring the ping-pong tournament into the water with this floating ping-pong table! This is a great one for adults and kids alike. Take turns and give out prizes to make it even more interesting.
6. Floating Drink Cooler
Image source: Brookstone
Don't have anyone to fix up a martini for your remote-controlled beverage float? You need a backup option. Here you have it, the floating drink cooler!
This baby will ensure that you can stay in the water for as long as the drinks last in the cooler (or for as long as your bladder can hold out... whichever comes first). Stock it up with ice, soda, beers, water, or even fruits for a chilled snack.
7. LED Flashing Pool Noodle
We never thought pool noodles would evolve and get more interesting, but alas, the time has come! Toss aside those boring pool noodles; it's time to break from the norm once and for all. Spruce up your pool with these LED flashing pool noodles!
8. Pegasus Pool Float
Image source: Funboy
We mentioned the food-themed pool floats already, but if you're not much of a foodie, we have the perfect alternative pool float for you. Say "hello" to the Pegasus pool float!
This pool accessory can make you feel like Poseidon, God of the Seam, as you float around on one of the most popular creatures of Greek mythology, all while catching a killer tan—fancy that!
9. Citronella Floating Pool Candles
Image source: Pottery Barn
If you're not keen on the idea of floating jellyfish, (yes, we're aware they're not everybody's cup of tea) you can opt for some over-sized pool candles instead!
With a warm glow and a soothing citronella scent, these candles carry an added bonus: they keep creepy crawlies at bay. You can relax in your pool dusk til dawn if you so please without worrying about pesky mosquitoes, as these candles serve as your own relaxing insect repellent.
10. Pool Storage Bins
Image source: Improvements
Now that you have acquired all of these new fancy pool accessories, you need a place to put them so that they don't get ruined or cause clutter. Invest in a pool clutter management system—otherwise known as bins. No, they're not the most glamorous item on this list of must-haves, but they sure are a necessity for keeping your pool clean and serene at all times—apart from when occupied, of course!
When you purchase through links on our site, we may earn commissions at no cost to you.
Claire is a contributing writer for DoItYourself.com. She's an experienced home improvement researcher and project builder with a wide range of interests, and especially enjoys learning about designs that facilitate outdoor recreation.