Tips for Turning Your Bathroom into a Calming, Luxurious Spa
1-50 hours

•

Intermediate

•

50-25,000
The bathroom serves many purposes. From cleanliness to relaxation, it's yours so make it what you need it to be. While you may not be in the market for a complete bathroom renovation (or maybe you are), there are small things you can do to create a calming vibe.
If you are making updates, keep the overall goal for the space in mind as you work. Create the spa-like essence through a full, multi-sensory experience of sight, sound, scent, and feel.
1. Choose Neutral Colors
One thing you'll notice about a day at the spa-it's not a colorful engagement. Spas create a soothing atmosphere through neutral and natural colors. Choose your own color theme accordingly.
An all-white bathroom represents a clean environment and could be just the right vibe for you. It's an easy color to find, and even though there are actually countless shades of white, it's easy to match between items.
Every product seems to be available in white, from toothbrush holders to bath mats. Even tile, flooring, cabinets, and wall paint will fall into line with that color choice.
However, if white alone is too stark, mix in some light gray, blues, or greens. Just keep the palette in alignment with those you'd find in nature.
Another option is to vary the shades of cream, beige, tan, and taupe. These colors also marry well with the basic white foundation. These colors don't detract from each other, but create an unbroken flow throughout the space. Light colors visually represent cleanliness and a relaxing temperature.
2. Select Natural Materials
At every layer, choose natural materials such as organic cotton, bamboo, tile, wood, and cork. Starting with the flooring, you could go with ceramic tile, cork, wood, or a bio-based linoleum that performs well in the environment and is available in an endless array of colors and designs.
The vanity is a good place to introduce a little color if you want, but limit your options to soothing shades. If you want to go darker, go with slate gray or natural brown tones. Wood is another great choice since it provides a direct connection with nature and is available in every shade, from light to quite dark.
Use glass and wood for shelving. In a small space, a mirror on the counter to hold lotion or soaps will reflect light, making the space feel larger. The same holds true for shelves. In a larger bathroom with a lot of stark white, warm it up with dark wood shelves instead.
Remember to select natural materials for all the linens in your wanna-be spa bathroom too. If it's the only change you make, spoil yourself with luxuriously soft bamboo or organic cotton towels. Go oversized for a real spa-like treat.
There's something about selecting natural materials that go beyond your own sensory experience. Skipping the chemicals, toxic finishes, and synthetic materials is also healthier for you and the planet. With that in mind, rely on organic cotton, bamboo, wood, or cork for your bath mat too.
3. Choose Spa-like Fixtures
The bathtub should be white, but a shower can be accented with soft blues and grays in the tile and still offer a soothing environment. For a real spa-like experience, consider a bear claw tub or a whirlpool.
However, keep in mind whirlpools are not as popular as they used to be, and some people might feel it dates your bathroom. It's something to consider if you have any upcoming resale goals.
If you have the space in a large bathroom, the ultimate luxury treatment is a sauna in the bathroom. You can build your own sauna or buy one that's ready to install.
Maintain the Earthy vibe with your sink or sinks. Choose vessels in white or select those with an artistic glass finish.
When it comes to the toilet, standard white stands the test of time.
Get an ultra water-efficient model to save water and money on the utility bill, but if you're not in the market for a new toilet, just swap out the seat instead. There are many luxury settings available on toilet seats these days, and it's the perfect place to set the spa tone.
A heated seat, a remote, and perhaps a bidet should suit any needs you might have.
Faucets can make the difference between average and extraordinary too. When selecting these fixtures for the sink go with a sleek design that appeals to you. It can be a tall gooseneck or a short faucet with a fountain-style water spout on top.
The showerhead can also up your experience. Get one with multiple settings to meet your mood anytime. Perhaps the most spa-like option is the rain showerhead.
4. Include Water Features
Anywhere you can create the soothing sounds of cascading water will bring a bit more nature into your bathroom. Choose a waterfall feature in the tub, go with a fountain faucet in the tub or at the sinks, or simply add a water feature to the room.
5. Go Smart
Allow some technology to enhance your bathroom experience.
Showerheads considered 'smart' can combine water savings with new technology that doesn't leave you suffering from water restrictions. These fixtures function by threading a powerful air blast into the water spray for a full water effect with up to 30% water savings.
Other 'smart' showerheads connect to your home assistant or phone App to provide features such as remote start and pre-saved spray preferences. Smart showerheads offer colorful water streams and a variety of settings to make your shower experience exactly what you want it to be.
6. Be Minimalist
Clutter is the opposite of relaxing. Do yourself a favor and organize every corner of your bathroom. Go through your drawers and discard anything that is broken, unused or expired. Same goes for the medicine cabinet.
Then open the cupboards and do a deep purge. Toss anything you haven't used in the past six to twelve months.
With what's left, organize it all into bags, drawer organizers, baskets, and jars.
Go through the linens too. Donate bedding you no longer need or use them as painting drop cloths. Since you're pampering yourself with new towels, use the old ones to clean the car, dry off the dogs, or wipe down outdoor furniture.
If they're still in great condition, move them to the guest or kids' bathroom instead.
7. Natural Light
Another connection with the natural world is sunlight. Let it in in every way possible. Add a skylight, upgrade to larger windows, or swap out the clouded window for a clear one.
Of course, privacy is an issue in a bathroom, but only use what you need when you need it. Otherwise, keep the window coverings open and the light flowing through.
8. Open Shelving
Simplicity is the theme in most spas. From Scandinavian interior design to modern minimalism, the features all work together to feel calm, natural, and extravagant. Adding to the foundation of natural materials, open shelving sends the message of clean lines and function boiled down to just the essentials.
It removes the weight of clutter along with cabinet doors, and replaces it with a sensation of having it all under control. That's what unwinding at the end of the day should feel like.
On the open shelving, return to the sustainable and organic materials in baskets, glass jars, and stone bowls. Store cotton balls and swabs in jars, roll washcloths into baskets, hide the hairdryer and fill bowls with soaps.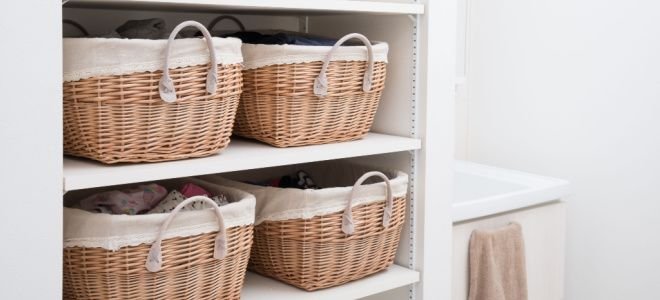 9. Plants
Bring the outdoors in with plants all around your space. Of course, you need to match greenery that will do well in your bathroom with consideration for the amount of natural light available and the moisture in the room.
Place them on shelves, on the window sill, on the edge of the bathtub, and in planters on the floor, as appropriate.
If you have no light and limited time to care for your plants, there are many that will still thrive in a quasi-nurturing environment. It's really just a matter of finding the right match.
10. Candles
Another part of the sensory experience is providing relaxing scents. It's a subjective assessment as to what a relaxing scent is, but make sure it's part of your spa atmosphere.
Rely on candles burning while you shower or take a bath. If scents are offensive to you, at least use the flicker of candles to create ambiance and save on energy costs.
Alternatively you can use a diffuser or a wax warmer to achieve the same goal. Scents in the bathwater or through body wash or soap also work.
The point is to carefully select your care products, so they bring you the maximum amount of pleasure. Read labels and do the sniff test to see if the scent appeals to you.
Make bath salts or other scents part of your overall experience. You can also apply lotion after bathing and allow the scent to linger on your skin.
11. Install Music/Speakers
Whether you use a portable speaker or go with a smart device that plays music in your shower, there are many ways to create a spa-like vibe while you relax in the bathroom.
Install a sound system, put a single speaker above the shower, or ask Alexa to do her thing. Any way you wire it, a bit of Buddhist chanting, classical music, or nature sounds can be just what you need to leave the stressors of the day behind.
12. Bathtub Shelf
You can DIY or buy your bathtub shelf. They are easy to make, and it's something that will provide all the conveniences for a relaxing experience.
Start with a basic board you already have around the house. Cut it down to size, so it rests across the top of the bathtub from one side to the other. You can contour one side if it needs to narrow in order to fit inside the soap holder on the fiberglass shower side.
With the bathtub board cut to the right side and shape, embellish it to suit your needs. Use the router to make a groove for a book.
Put the bandsaw to work to cut out a spot for your wine glass. Or attach a hole saw attachment to an electric drill. Cut part way through the board to create a grove for a glass of whiskey or sparkling water.
Similarly, you can put a cup of coffee or tea on top of the board or in a groove of the right shape and size.
13. Soothing Artwork
Further decorate the bathroom and introduce a cohesive design with some artwork. Connect with what appeals to you, whether that's a Zen image, a nature painting, some abstract art, or a homemade DIY painted sign.
14. Keep it Clean
In addition to the pampering and calming aspects of your bathroom, keeping the space clean makes it more inviting and relaxing. Although doing the cleaning might not be your favorite thing, at the end of the day, when you're ready to relax, you'll be glad you did.
15. Find Comfort in Cozy Rugs
Think lush. Put down thick rugs that feel good. Pick designs that make you smile and that match the overall theme of the bathroom.
16. Heat up the Floor
If you are planning a remodel, consider putting down a radiant floor heating system. The warmth underfoot will take the chill out of cold mornings and add a cozy feel to your sanctuary.
17. Provide Privacy
Regardless of the size of your bathroom, make sure there is adequate privacy. It's not very relaxing if you fear someone will walk in at any moment or peer in through the window.
For a large open bathroom, section off the tub with a room screen or pull curtain. Consider adding a door or a curtain to an open shower. Also add window coverings as needed. Keep the materials soft and flowing to match the spa vibe.
Conclusion
Wherever you're at in your bathroom journey, add a few splashes of spa bliss or renovate the entire space to meet your needs. Get started with A Guide to Choosing Bathroom Colors, consider some Bathroom Stone Flooring Designs, and look at 5 Tips for Creating a Custom Bathroom.