Upcycle to Organize
When it comes to organizing, you can spend a lot of money on fancy containers, boxes, dividers and more, or you can upcycle and re-purpose existing items to do the same job. This is much more cost effective, and ou don't have to be the super crafty type to give new job descriptions to things no longer fit for their original purpose.
The key to successful organizational upcycling lies in your imagination and ability to see how you can creatively use items destined for the trash in a new and practical way. Here are just a few items you may have lying around the house and ways that you can use them to keep organized.
Old Record Earring Holder
Keeping your earrings organized can be a monumental task. How often have you been disappointed when you can only find one of your favorite earrings or can't locate any backs? To solve your earring organizational problem and create an great piece of decor, you can put an old record to work.
Even if you did not hang on to any of your old favorites, you can find old records in most thrift or antique stores or even yard sales. To make your record earring holder, place your record on a block of wood. Heat the tip of a nail over a candle and push it into the record until it breaks through to the other side. Make as many sets of two holes on the record as you desire. Put two holes on the outer edge of the record and tie a ribbon through it to hang.
Muffin Tin Office Supply Caddy
If your muffin tin is no longer suitable for its original purpose, consider using it in your office. There is no end to the small things that fit perfectly in the tin cups like thumbtacks, rubber bands, erasers, paperclips, paper clamps, post-it-notes, etc. If your desk drawer is big enough, try setting the tin inside. If you are going to leave the tin on your desk, spray paint it with metal paint to match your decor.
Scrap Wood Necklace Rack
Turn a piece of scrap or pallet wood into an eclectic necklace rack with just a few supplies. A 1-by-4-inch piece of wood cut to whatever length you need works well. Simply clean and sand the wood, removing any rough spots, and paint or stain as desired. Insert cup hooks on the underside of the wood, spaced about 1-inch apart and attach two hanging hooks on the back. You'll have no more jewelry to untangle and your rack makes a great conversation piece.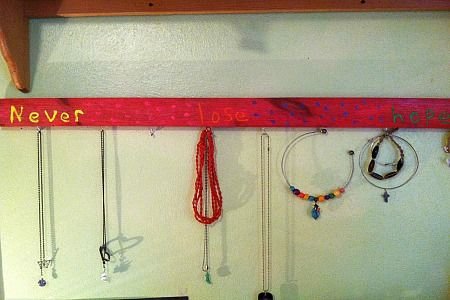 Altoid Tin Change Container
If you're always looking for somewhere to keep your spare change, why not upcycle a mint tin? These handy little tins are perfect for holding not only change but you can also use them for jewelry, bandaids, cotton swabs, thumb tacks, bobby pins or any other small items you need to organize. Line up tins on their sides in a drawer and put a label on them to find all of your small stuff quickly.
Dish Rack File Holder
Another great way to keep your office organized is to keep files you need handy in one place. The next time you get ready to get a new dish rack, don't be so quick to throw the old one out, turn it into a practical file holder and use the utensil cup to hold pens and pencils. You can even spray paint the rack if you want to change its color.
Toilet Paper Roll Extension Cord Holder
Organizing extension cords can drive anyone crazy. To keep your cords wrapped up neatly use toilet rolls as holders. You can even cover the toilet roll with a strip of pretty fabric; all you need is some fabric and a glue gun. Wrap the length of the cord around your hand and simply slide through the tube. Place multiple rolls inside a box with all of your cords and you won't have to untangle everything to find it when you need it.
As you can see, there are numerous ways to upcylce common household goods in your quest to get organized. The next time you are ready to throw something out or put it in the recycle bin, think about how you can give a new and very practical job.