Using the Area Around your Bed for Storage
To ensure our content is always up-to-date with current information, best practices, and professional advice, articles are routinely reviewed by industry experts with years of hands-on experience.

Reviewed by

on Jan 08, 2020
Bedroom storage can be tricky, but there are quite a few missed storage opportunities right around your bed. By using the area around your bed for storage, you create new storage space that was previously underutilized. Some simple rearranging and investing in a few inexpensive storage solutions will open a whole new world of storage possibilities in the bedroom.
Under the Bed Storage
Instead of tossing shoes under the bed or letting the floor below collect dust bunnies, invest in some inexpensive under the bed storage containers. Found in nearly every large discount store, under the bed storage comes in hard, plastic containers, as well as zippered cloth and cardboard units. They are typically low to the ground and are perfect for sliding under the bed. Fill them with out of season clothes, shoes or other accessories that do not get worn very often. The trick to making the under the bed storage units work is to make sure that they are easily accessible. A dust ruffle around the bed will keep your storage space hidden from view.
Hope Chests
Hope chests were typically given to a woman upon her marriage. They were filled with things to start her new life as a wife. Today, hope chests are rarely used, but offer a unique storage opportunity for the bedroom. Placed at the foot of the bed, a hope chest provides immense storage space, while also serving as a seating area. Some chests have padded, cushioned tops while others are simply hardwood. If a hope chest is not part of the home furniture collection, try visiting antique stores, thrift stores or estate sales. They are usually not very expensive. Since they fit perfectly at the end of the bed and offer a great deal of storage space, they are perfect for bedroom storage.
Quilt Racks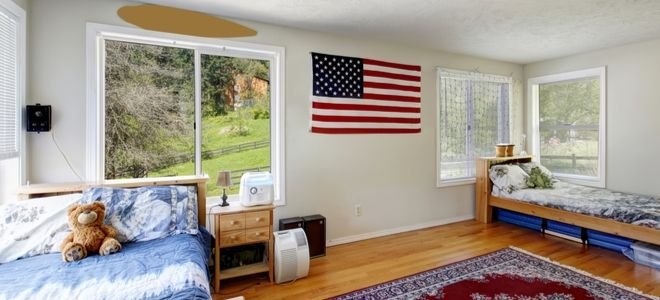 If a hope chest is not an option for the foot of the bed, consider placing a quilt rack there. Quilt racks generally take up little space, but provide the perfect storage solution for the many quilts and blankets that gather in a home. By placing the rack close to the bed it is easy to place the decorative bed throw on a safe spot before retiring for the evening. Quilt racks also allow you to show off the beauty and intricate patterns of collected quilts.
Hat Box Nightstand
Hat boxes are fantastic storage pieces. They come in a variety of sizes and are easily stackable. Instead of a bedside table with little storage, invest in a tower of graduated size hat boxes. Stack them next to the bed and fill them with things that are not frequently used. Old mementos and pictures that have no other storage space can be safely stored in a hat box tower. At the top of the tower, place a bedside lamp and an instant table has been created. Although finding storage solutions in a bedroom requires creative thinking, this is an opportunity to think within the box.
Be creative when looking at your bedroom for possible storage solutions. Utilize spaces that are not being used and rearrange areas that could be used in a more effective way. The area around the bed is usually the most underutilized space, so start there when planning how to organize the bedroom.
Born in Columbus, Ohio, Alyssa Davis has always had an eye for color. Specializing in designing "living" rooms, she focuses on creatively incorporating plants into a space, which adds a whole new dimension and layer to interior design. She loves helping avid DIYers create rooms that are living, breathing masterpieces. During her childhood, Alyssa fell in love with art, finding any excuse to jump into painting and craft projects. But it was at her mother's side that she discovered her true passion for growing flowers. As time evolved, she began using her plants to create living walls and blooming corners in rooms that were literally alive.After studying horticulture for most of her life, she earned her rightful place among master gardeners. Quite accidentally she stumbled onto a niche in the world of interior design, and today she is a trendsetter when it comes to decorating with plants. From orchids in the shower to cactus in the laundry room, Alyssa uses color and living texture to add interest and definition to her design.As comfortable writing about her designs as she is creating them, Alyssa adds a whole new facet to the world of interior design.

Dawn Hammon has thrived in freelance writing and editor roles for nearly a decade. She has lived, worked, and attended school in Oregon for many years. Dawn currently spends her days convincing her children she is still smarter than them while creating new experiences with her husband of 24 years.  Her multiple interests have led her to frequently undergo home improvement projects. She enjoys sharing the hard-earned knowledge that comes with it with the audience of DoItYourself.com. Dawn and her sister make up a power-tool loving duo that teaches classes to local women with the goal of empowering them to tackle their fears and become comfortable with power tools. Tapping into her enthusiasm for saving money and devotion to sustainable practices, Dawn has recently launched a passion project aimed at connecting eco-friendly products and socially-responsible companies with consumers interested in making conscientious purchases, better informing themselves about products on the market, and taking a stand in favor of helping to save the planet. When she is not providing stellar online content for local, national, and international businesses or trolling the internet for organic cotton clothing, you might find her backpacking nearby hills and valleys, traveling to remote parts of the globe, or expanding her vocabulary in a competitive game of Scrabble. Dawn holds a bachelor's degree in psychology, which these days she mostly uses to provide therapy for her kids and spouse. Most recently, I worked for a small local professional organizing and estate sale company for four years where I learned a ton about organizing and/or disposing of just about anything. She was raised in a tool-oriented, hands-on, DIY family. Her dad worked in the floor covering business and owned local floor covering businesses, so of course selling floor covering was one of her first jobs. Her brother was a contractor for about 30 years and site supervisor for Habitat for Humanity. I worked with him often, building decks, painting houses, framing in buildings, etc. With her sister, she holds power tool classes to empower women who are scared or have never used them. Not quite homesteaders, she did grow up with a farm, tractors, motorcycles, expansive gardens, hay fields, barns, and lots of repairs to do. Plus she and her family preserved foods, raised cattle and pigs, chopped and hauled firewood, and performed regular maintenance on two households, outbuildings, fencing, etc. As an adult, she has owned two houses. The first one she personally ripped out a galley kitchen and opened it up to the living area, plus updated every door, floor covering, and piece of trim in the place. In her current home, she's tackled everything from installing real hardwood flooring to revamping the landscape.