Using the Area Around your Bed for Storage
To ensure our content is always up-to-date with current information, best practices, and professional advice, articles are routinely reviewed by industry experts with years of hands-on experience.

Reviewed by

on Feb 09, 2023
Bedroom storage can be tricky, but there are quite a few missed storage opportunities right around your bed. By using the area around your bed for storage, you create new storage space that was previously underutilized. Some simple rearranging and investing in a few inexpensive storage solutions will open a whole new world of storage possibilities in the bedroom.
Under the Bed Storage
Instead of tossing shoes under the bed or letting the floor below collect dust bunnies, invest in some inexpensive under the bed storage containers. Found in nearly every large discount store, under the bed storage comes in hard, plastic containers, as well as zippered cloth and cardboard units. They are typically low to the ground and are perfect for sliding under the bed. Fill them with out of season clothes, shoes or other accessories that do not get worn very often. The trick to making the under the bed storage units work is to make sure that they are easily accessible. A dust ruffle around the bed will keep your storage space hidden from view.
Hope Chests
Hope chests were typically given to a woman upon her marriage. They were filled with things to start her new life as a wife. Today, hope chests are rarely used, but offer a unique storage opportunity for the bedroom. Placed at the foot of the bed, a hope chest provides immense storage space, while also serving as a seating area. Some chests have padded, cushioned tops while others are simply hardwood. If a hope chest is not part of the home furniture collection, try visiting antique stores, thrift stores or estate sales. They are usually not very expensive. Since they fit perfectly at the end of the bed and offer a great deal of storage space, they are perfect for bedroom storage.
Quilt Racks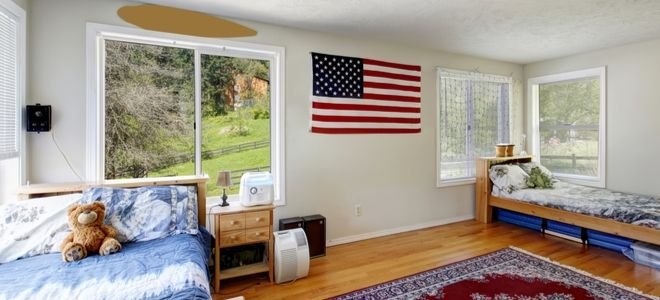 If a hope chest is not an option for the foot of the bed, consider placing a quilt rack there. Quilt racks generally take up little space, but provide the perfect storage solution for the many quilts and blankets that gather in a home. By placing the rack close to the bed it is easy to place the decorative bed throw on a safe spot before retiring for the evening. Quilt racks also allow you to show off the beauty and intricate patterns of collected quilts.
Hat Box Nightstand
Hat boxes are fantastic storage pieces. They come in a variety of sizes and are easily stackable. Instead of a bedside table with little storage, invest in a tower of graduated size hat boxes. Stack them next to the bed and fill them with things that are not frequently used. Old mementos and pictures that have no other storage space can be safely stored in a hat box tower. At the top of the tower, place a bedside lamp and an instant table has been created. Although finding storage solutions in a bedroom requires creative thinking, this is an opportunity to think within the box.
Be creative when looking at your bedroom for possible storage solutions. Utilize spaces that are not being used and rearrange areas that could be used in a more effective way. The area around the bed is usually the most underutilized space, so start there when planning how to organize the bedroom.
Born in Columbus, Ohio, Alyssa Davis has always had an eye for color. Specializing in designing "living" rooms, she focuses on creatively incorporating plants into a space, which adds a whole new dimension and layer to interior design. She loves helping avid DIYers create rooms that are living, breathing masterpieces. During her childhood, Alyssa fell in love with art, finding any excuse to jump into painting and craft projects. But it was at her mother's side that she discovered her true passion for growing flowers. As time evolved, she began using her plants to create living walls and blooming corners in rooms that were literally alive.After studying horticulture for most of her life, she earned her rightful place among master gardeners. Quite accidentally she stumbled onto a niche in the world of interior design, and today she is a trendsetter when it comes to decorating with plants. From orchids in the shower to cactus in the laundry room, Alyssa uses color and living texture to add interest and definition to her design.As comfortable writing about her designs as she is creating them, Alyssa adds a whole new facet to the world of interior design.

H.R. Helm is an accomplished DIY craftsman. He has been DIY since childhood and is now a septuagenarian. He is experienced in wood and metal construction, having designed and built several houses and metal buildings. He built every permanent building on his current homestead and did all the plumbing and electrical work. He has several years experience as a professional cabinet builder, and he is an accomplished auto repairman, having operated an auto repair business for many years. He currently has a home shop where he sharpens and rebuilds saws, repairs lawn mowers, mobility scooters, hydraulic jacks, and anything else that comes along. He also builds custom tools for metal working. Invention prototypes are another of his many accomplishments. He owned and operated a manufacturing business building Compact Utility Vehicles for homeowner use. H.R. enjoys making jams and jellies during fruit season along with cooking meals. He is committed to outdoor cooking in a Bar-B-Q pit he welded together several years ago. He maintains fruit and nut trees along with helping his wife with a vegetable garden. He farmed commercial garden produce for several years. It helps to have over 50 years of farming and ranching experience. Employment/Education Highlights ASE Certified Master Auto Technician Certified Welder Cross country truck driver -- over dimensional freight Design Engineer/Project Manager for injection molded plastic company Bus Driver/Substitute Teacher Inventor with two patents (weight training – anti-rollback for manual wheelchair) BS in Industrial Technology