Utilize Space With a Pantry Door Shelf
To ensure our content is always up-to-date with current information, best practices, and professional advice, articles are routinely reviewed by industry experts with years of hands-on experience.

Reviewed by

on Oct 19, 2021
1-6 hours

•

Beginner

•

20-300
It's helpful to have additional space for storing kitchen supplies and food, but many pantries aren't laid out efficiently for the best use of space. While using baskets on shelving units help contain like items, small containers are easier to access on narrow shelves. Using the back of the pantry door is a great way to expand your pantry storage and make it more efficient at the same time.
Step 1 - Choose a Pantry Door Shelf
Also called a door rack, a pantry door shelf attaches to the back of the pantry door and provides space to hold an assortment of items. They come in endless varieties ranging from inexpensive plastic to custom wood. When selecting your pantry door shelf, consider your budget, the size of the door, the depth of the rack, and the way the compartments of the unit are laid out. Also look at the way the shelf mounts to the door and make sure that will work with your situation.
Some systems offer movable sections so you can adjust shelf heights to meet your needs. You may also be able to attach bins to hold small items that may not sit on a shelf, such as gravy or fruit snack packages. If you know what you plan to store on your shelves, think about how they will fit before making your purchase. Small spice containers will slide around and get hidden in deep compartments so it's better to select a narrow shelf for those. Conversely, a 10-pound bag of flour or canisters will require more depth. Also consider whether you need a solid surface or if a wire rack will suffice.
You can find pantry door shelves at department stores, specialty kitchen stores, organizing stores such as Bed, Bath, and Beyond or The Container Store or online.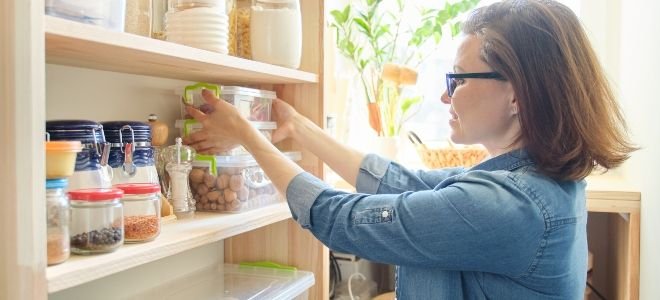 Step 2 - Install the Pantry Door Shelf
Pantry door racks are typically very easy to install. Many of them simply hook over the top of the door, securing them into place. Some, however, screw into the door which provides a more stable attachment. Once loaded, the unit can become quite heavy, so even if the door shelves you choose don't require hardware, it's a good idea to reinforce the attachment.
Calculate whether your door is a hollow core or if it's solid. For a hollow core door, consider using a toggle bolt that opens up in the center of the door keeping the screws from working loose. For a solid core door, you can screw directly into the door.
Also be aware of the length of your screws. Make sure they are not too long or they will go through to the outside of the door. If your door shelf does not have hooks over the top, ask for help to hold it in place. Then make sure the rack is even, by using a level across the top or on one of the shelves. Install a few screws to support the system before your helper lets go and then add additional screws as needed. Putting an additional screw in each bottom corner will keep the rack from swinging when you open and close the door.
Step 3 - Use the Extra Space
Now comes the fun part. Deciding how to use your additional pantry space begins with taking an inventory of your pantry. You can focus on small items that might otherwise get misplaced, or you can emphasize frequently-used items like kid's snacks so everyone will have easy access when they open the pantry.
Canned goods are another option for the door. They fit neatly into a narrow space and allow you to quickly see your inventory. Removing cans from the internal shelving also creates more space for bulky items like small appliances.
Depending on the needs of your family, the pantry door rack not only provides more space but helps organize your food into categories. For example, you could use it for pasta and sauces, spice jars and packets, soups, condiments, snacks, baking supplies, paper products, drinks, or breakfast foods.
Of course, the added space doesn't even have to be used for food. Placing cleaning supplies in the attachable shelves means they are accessible and organized. Include rags, sponges, cleaners, and scrub brushes. Alternately, you can create a gift wrap station, conveniently attached to your door rather than digging through totes or drawers. Organize gift bags, wrap, ribbons, bows, cards, tape, and scissors.