What are Thermofoil Cabinets?
To ensure our content is always up-to-date with current information, best practices, and professional advice, articles are routinely reviewed by industry experts with years of hands-on experience.

Reviewed by

on Jun 11, 2019
If you are planning on undergoing a kitchen refurbishment, thermofoil cabinets are an option you might want to consider. Prior to deciding whether they would make a good alternative to more standard materials, it is useful to be aware of their qualities.
Use
Thermofoil cabinets are most commonly found in the kitchen as a replacement to the standard cabinets because thermofoil offers a number of advantages for kitchen use.
Materials
The main materials used to manufacture thermofoil cabinets are particle board and laminate, which work together to create a strong and durable cabinet that looks no different than standard cabinets.
Construction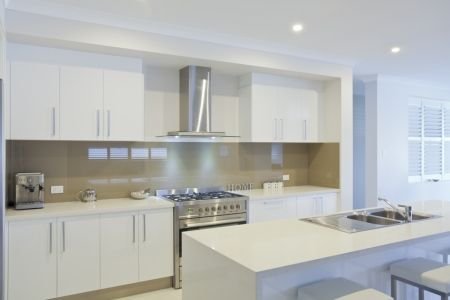 In addition to the materials used, the manner in which thermofoil cabinets are constructed provide them with the qualities that make them popular. The particleboard is sandwiched between the laminate, which is fused to the surface to reduce the damage and peeling that can occur with other materials.
Qualities
The qualities of thermofoil cabinets make it a popular choice when a kitchen refit is being undertaken. In addition to being hard wearing, the cabinets are easy to clean, stain resistant, and waterproof.