What Is the Best Treatment for Redwood?
To ensure our content is always up-to-date with current information, best practices, and professional advice, articles are routinely reviewed by industry experts with years of hands-on experience.

Reviewed by

on May 26, 2021
Treatment is required if you want your redwood to last longer and retain its beautiful hue and finish. With proper staining and care, you can prevent your redwood from cracking and rotting, especially when exposed to water.
The ideal sealant for maximum protection of any redwood deck is a semi-transparent stain. Before applying the stain, here are some tips on how to protect your deck or other redwood surfaces and make it look new after years of wear and tear.
Clean the Deck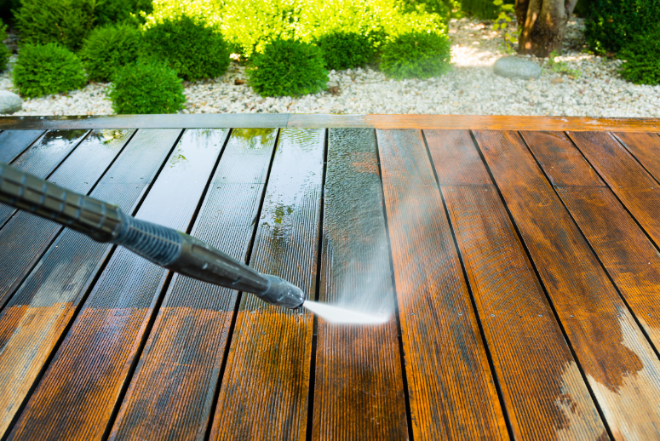 A cleansing solution specially made for spot-treating wood should be used. Do not dilute it and make sure to follow label instructions. A mild-washing detergent can be helpful when dealing with oily spots.
Since redwood is a resilient and durable type of wood, you can scrub the exterior surfaces with a stiff broom or hard-toothed brush. Rinse thoroughly the brushed portion before moving on to another portion of the deck. It is normal to see a small layer of redwood removed after rinsing.
Use 1 gallon of warm water in a non-metallic container mixed with 4 oz. of oxalic acid crystals for severe mildew infestations.
Proper drying after rinsing the deck is very important. It may take days before the redwood deck will completely dry.
To restore your redwood's color, use a bristle brush to scrub the wood's surface. You can use a solution of 1 cup trisodium phosphate and 1 cup of household bleach mixed with 1 gallon of water.
Purchase trisodium phosphate on Amazon
Choose the Best Treatment
Redwood tends to crack and peel when treated with exterior finishes such as varnishes and polyurethanes. They are also difficult to apply and remove at the same time. On the other hand, oil treatments for redwood should also be avoided because of its susceptibility to mildew which contributes to wood darkening.
Semi-transparent stains are perfect for treating your redwood. These stains do not peel or flake off like some solid stains. You can either choose to buy a semi-transparent stain that resembles the color of your redwood or match the stain color to that of your house.
Purchase redwood stain on Amazon
Apply the Stain
Now that you've chosen the ideal stain for your redwood, you can apply it to the wood itself. It is important to remove previous finishes first before applying the stain. Sanding is recommended to remove pigmented stain finishes and also improve the surface of the deck. Paint and varnish removers can also help you remove finishes before applying your new stain.
To prevent nail stains, nail heads should be set, or counter-sunk, below the wood surface before sanding. Tap in any nail heads or screws that rise above the surface. In applying your redwood stain, you can either use a paint sprayer or a roller. A large brush can help you apply the stain to the wood's interior surfaces and seal the wood off at the same time. Combining the use of a large brush and a roller will make the job easier and faster.
Pro Tip.
It should be noted herein that sealing Redwood up completely has the effect of sealing moisture into the lumber. This will inevitably cause the water to stagnate and the Redwood decking will rot from the center outward over a relatively short period of time.
When you purchase through links on our site, we may earn commissions at no cost to you.