What Not to Do When Building a Kitchen Island
Like all kitchen trends, the use of an island has ebbed and flowed over the generations. The question, "To build or not to build a kitchen island" is only the first in a long list of decisions to make.
Once you decide to include a kitchen island in your design, you'll need to consider size, shape, location, finishes, layout, and more.
Along the way, make sure you are aware of these common pitfalls that may leave you suffering from frustration rather than elation.
All kitchens are different, making it important to evaluate the unique characteristics of the space in deciding whether a kitchen island is right for you.
Here are some pros and cons you may not have considered.
Kitchen Island Advantages
There are many pros to having a kitchen island, at least when it's well designed for the space.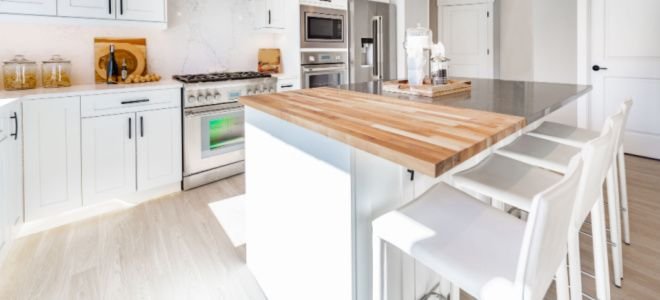 Counter Space
Probably the biggest advantage of a kitchen island is the bonus of additional counter space. Even a small island provides flexibility to stretch out a bit.
It's a space you can use for a variety of things. In addition to prepping dinner, you can use your island as a home for your favorite appliances or as a staging area for meals where you can set plates, silverware, and glasses.
You can use it to serve meals too, or simply place decor on top.
Storage
In addition to gaining counter space where you can work or place food and kitchen appliances, the kitchen island is equipped with copious storage.
If you don't have many cupboards or drawers in your kitchen, an island can easily solve the problem with space for large and bulky items, or everyday dishes and cookware.
Seating
An island can serve as a breakfast bar with a counter overhang and some stools. Give the kids a spot to do homework, work on projects, or enjoy lunch while you cook and clean up.
In homes without a designated dining area, the kitchen bar can provide a solution.
Kitchen Appliances
As a central focus of your kitchen, the island can be plumbed for a sink, equipped with a cooktop, or even set up for a dishwasher or mini fridge.
Remember that an island is more than counter space. It's a workspace, dining space, and storage space. It's an extension of your built-in kitchen design.
Kitchen Island Disadvantages
A kitchen island is right for everyone. There are myriad reasons it might not be a good decision for you.
Cost
Each addition to a kitchen means a matching additional cost. A kitchen island can require a much higher budget, especially if it includes the services of a plumber, electrician, or HVAC installer.
You'll also be paying for more materials and appliances. That might include cabinets, countertops, sink, faucet, dishwasher, wine cooler, etc.
Space Constraints
Without careful design consideration, your island may cause more challenges than solutions. The last thing you want is a large island that keeps you from accessing other spaces in your kitchen easily.
Clutter Catch
The island can quickly become a space where everything lands. While that might be helpful when your hands are full, you can easily find your island becoming a clutter collector.
Do Kitchen Islands Add Value?
Value is in the eye of the beholder. If a potential buyer values an island, it just may be the perk that leads to a sale. Others may prefer a different kind of layout where an island feels more like an obstacle than a bonus.
From a market point of view, a well-designed kitchen remodel is one of the most valuable projects you can tackle. If an island fits neatly into that plan, it will add value as an essential component of the kitchen.
What Not to Do When Building a Kitchen Island
Now that you're ready to get started on your kitchen island design and build, make sure you've considered all angles of the room. Here are some 'don'ts' to be aware of.
1. Start Without a Plan
Step one in any good home remodel or build is to evaluate the purpose of the space. How do you use your kitchen? Is it a highly used or lightly used space?
Do you need space for a growing family, or is it more important to leave the layout open for mobility?
Consider the seating, flow from one space to another, features of the island, cabinetry, appliances, size, location, etc.
Your plan is your blueprint for the entire project. Make sure it's detailed and comprehensive. Consider a drop point for coats, backpacks, and mail. Think about where you'll put countertop appliances. Figure out if you'll use the space as a buffet bar or eating space.
Don't start ordering materials, hiring help, or scheduling contractors until the details are hammered out. Otherwise, you might find yourself redoing the work to change sizing, shift the island, or replace the countertop.
2. Make it Too Large or Small
An island that's too small will seem like it's not worth the expense and effort. There are advantages to a small island if it's all your kitchen can accommodate, but you also want it to be comprehensive enough to serve its purpose.
Similarly, a kitchen island that's too large makes it difficult to move around the kitchen. It limits walking space and may cause challenges with opening the oven or fridge door.
Think about the way you use the space. If you often have several people using the space at the same time, leave room for that activity.
You may also want to add ADA features, such a wide space for wheelchairs or walkers and perhaps a lower counter for use when seated in a wheelchair.
When considering depth, play with your reach. An item placed at the back of the countertop should be easily accessible. The island shouldn't be so large it has space in the middle you can't get to without a step stool.
However, if it's too narrow, you may not be able to place your mixer on the counter and leave any space to work in front of it.
3. Create a Funky Layout
Kitchens are all about function and flow. As mentioned, that means making sure your island isn't too large or small. It also means paying attention to the shape of the feature.
When we think of an island, a rectangular design typically comes to mind. However, there's no reason your island must take that shape. It could be square or angle into an "L" shape. It can be octagonal if you want. Make it what you want it, but be aware of how it affects the layout and function of the space.
Be careful with funky designs, though. What may be fun today likely won't stand the test of time in the trend department. You, or a subsequent owner, will probably replace it at some point with something more traditional.
However, if a funky design serves your kitchen and personality best, go for it.
4. Forget Seating
If you plan to incorporate seating into your kitchen island, plan for it early. Not only does it affect the architecture of the island and countertop, but it will require more space surrounding the island too.
That means you may no longer have room for a wide table in the adjacent dining area, or it could infringe on the entryway into the room. You don't want to have to push bar stools out of your way just to walk into the room.
5. Fail to Plan Out Cupboards
Cabinets are a blessing in a kitchen. They allow you to store items in order to reduce clutter on the countertops. They also keep dishware protected from the grease and dust in the kitchen air.
Take some time to figure out what you want in your island cabinets. Will they be set up for food storage, large appliances, or beer making supplies?
If it will feature a cooktop, you may need storage for pots and pans. Perhaps you'll want to include a lid organizer or add a spice holder in a drawer. Consider features such as a lazy Susan, garbage storage, and soft-close mechanisms.
Figure out if you want finger pulls built into cabinets or if you prefer handles. Also plan for the opening width of cabinets, so they don't hit other cabinets or interfere with the dishwasher door.
6. Eliminate Drawers
Similarly, don't fail to plan for drawers. What features should they have? How deep and wide do you want them to be? Those used for Tupperware or linens should be larger than a drawer used for foil and plastic wrap storage.
Map out your needs to decide how many drawers you'll need and where they'll be built into the island. Keep things accessible while you cook and clean, so everything is within easy reach.
7. Choose Cheap Materials
Building a kitchen island adds significant expense to any kitchen design. However, choosing cheap materials may lead to larger costs in the long run.
You don't have to pick the top of the line material in every category, but you'll find real wood cabinets last longer than pressboards. The same holds true for countertop materials, hinges, drawer slides, faucets, etc.
Buy the best quality materials you can afford for a long-lasting island with minimal maintenance requirements.
8. Think Stationary Is Your Only Option
Did you know islands don't have to be built in? You can use a large or small rolling island to give you additional space when you need it, but the option to store it off to the side when you don't.
It might be the ideal solution for a kitchen that serves multiple purposes. Choose an option with locking wheels, so it doesn't shift while you work.
Take note that rolling carts need to have an independent power source built in or you won't be able to plug in appliances.
9. Forget Outlets
Outlets are an essential component of a kitchen island. They need to be accessible from each side of the island. Whether you build them into the backsplash or the side of the island, ensure you have enough to meet your needs.
Also be sure your island outlets are linked into a circuit equipped with a GFCI to protect against overloads and water damage.
10. Skip Permits
Nearly every home improvement has the potential for a trip to the planning department, and a kitchen remodel is no exception. Permits and inspections are for your safety since they ensure the work meets building codes.
Plus, the planning department is a great resource during the planning stages of your kitchen island since they can readily provide code requirements such as height, space surrounding the island, and electrical access.
11. Block Walkways
We alluded to it above, but really can't stress enough how important it is to leave adequate space around the island. The kitchen is a busy place.
Whether you have a toddler trying to ride a Big Wheel around the island, you have a guest who uses a walker, or your big dog needs room to pass as he cleans up food droppings, you'll want to be able to move freely.
You should have enough space to pass between the island and the refrigerator, even if the door is open. The same is true for the oven or dishwasher.
12. Ignore Your Design Style
The kitchen is the most used room in many houses. Between meals, snacks, and drinks, there's constantly a reason to pop in. The kitchen may also be centrally located, so it's visible to the dining room, living room, or even the front door.
Whatever the location of your kitchen, carefully consider the design style when you add an island. You can make the island match the rest of the room or you can allow it to make a different statement. Don't be limited by trying to make everything similar.
The island gives you a chance to go bold, sassy, classic, rustic, or bespoke. You'll need to consider your preferences and needs, but don't ignore what you want out of fear of being different.
13. Skip Lighting
Remember to incorporate lighting into the island equation. You may want a single drop light over the space, or a few that are spaced out. Perhaps you prefer strip lighting on a dimmer, or recessed lighting.
You may also want lighting beneath the countertop of the bar. Use a combination of general lighting and spot lighting where you work.
14. Be Overconfident
Finally, be realistic in your skills, time availability, and budget. If you plan to DIY a kitchen island, do your research, get proper approvals, buy quality materials, and ask a friend for help if needed.
Launch your planning with a bit more information and inspiration in our articles Compare Kitchen Island Plans and Kitchen Island—Yay or Nay?