Where to Find Free Furniture Woodworking Plans
Whether your woodworking interests are in the form of a hobby, a side gig, or a business, you can use those skills in a variety of ways.
While you might be comfortable with a certain style of woodworking, such as 2x4 outdoor furniture or signs made from pallet wood, if you want to expand your DIY woodworking skills, start by relying on the plans someone else has already mapped out.
Think of it as a recipe. You can use the plans to create furniture, shelves, gifts, and much more. Then you can use those skills and ideas to put your own spin on the project or come up with something entirely different.
There are 1,000s of plans on the internet, but filtering through them can be time consuming and frustrating. Plus, many of them falsely appear to be free but then want to charge you before you can download.
Finding that recipe for your woodworking project means you'll also have a list of all the needed tools and supplies, in addition to a step-by-step guide for how to complete the project.
We've found a wide range of free furniture woodworking plans you can use as a quick resource as you begin your woodworking project idea list.
The website offers a wide variety of woodworking plans. They are free to download and offer detailed instructions with colorful imagery. For example, if you're developing your woodworking skills while building shelves, the site offers plans for a hexagonal design, a mountain theme, or a cross lap style.
You'll find plans for giftable items like a wine box, charging station, game boards, bowl, plant stand, six-pack carrier with bottle opener, or serving tray. There's also plans for furniture such as side tables, coffee tables, ottomans, murphy beds, desks, benches, or vanities.
Most projects include materials or tools that are available for purchase through Rockler, so read through plans to decide whether to place an order or find a similar product elsewhere.
Go beyond a regular five-shelf bookcase with these detailed plans for a classic barrister's bookcase that you can stack in different ways. These plans provide clearly-labeled diagrams for each piece of wood, a comprehensive supply list, and a description of the process.
This project allows you to try out jigs. If you haven't worked with them before, a jig allows you to repeat the same process repeatedly with consistent results. In this case, the jig used serves several purposes, and the plans walk you through each step.
Not only does the site provide an assortment of different free plans for backyard projects, but it also makes it easy to filter through them so you can find just the one you need. You'll be fully prepped for summer entertaining with plans for Adirondack chairs, lounge chairs, a bar, and benches.
Lawn games like cornhole, washer toss, and ladder golf are included too. For everyday living, you'll find plans for an arbor, chicken coop, tables, sandbox, garden bench, hammock, daybed, picnic table, and more.
Each plan outlines the estimated time requirements, skill level, and cost range.
This is a great introduction to basic furniture woodworking. It doesn't require a lot of skills, materials, or expense. Before you get started, the plan provides a detailed list of materials and tools as well as the exact cut list you'll make. Then step-by-step instructions show you how to put it all together.
On the other end of the spectrum, this project requires some advanced skills, a chunk of time, and a decent investment. This project includes both written content and a video for a well-rounded tutorial. It also offers tips to make the project go smoother.
We love a functional DIY project, and this one fits the bill, times two. It not only provides a picnic table for the patio or yard, but it then converts into two separate benches for seating.
The supply list includes basic types of easy-to-find lumber, although the site promotes their brand specifically. Add a bit of hardware and some basic tools you probably already have on hand, and you're ready for a multi-purpose seating and dining solution.
Wood pallets make a great source of wood for myriad projects. Not only can you almost always source some free pallets from your neighborhood corner or local business, but there are an endless variety of woods to choose from.
Put together longer boards for tables and other furniture. Save the smaller pieces for wooden signs, picture frames, and a holiday pallet tree.
The site includes plans for a sliding barn door you can use as a functional or accent piece. It also offers more comprehensive projects like a shed, a playhouse for the kids, or a hidden desk. Smaller projects include a clock, a shelf, a tool organizer, or a wall lamp.
This is a one-day project that costs nearly nothing since the pallets can easily be found free in nearly every town. In addition to a table surface, this plan includes a storage shelf underneath. Add coasters to the bottom, and your table will be easy to move or lock into place.
This project requires more time, skills, and pallets. However, the plan details every step, measurement, and finishing touch to create a long-lasting wood chair for the outdoors. Just add cushions for a comfy resting spot.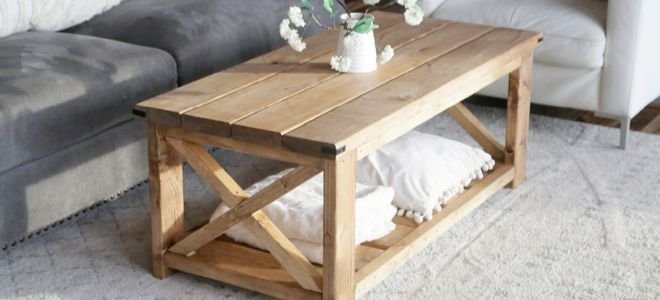 Ana White features plans for inside and outside the house, for every level of woodworker. Her interior design style is focused on farmhouse and rustic designs, which is evident in the farmhouse table and rustic X console table. Yet, there are also classic and timeless designs for beds, a dollhouse, and an outdoor sofa.
Ana White offers hundreds of designs for every room and occupant in the house. From a wood toy box to a greenhouse, you'll have an endless supply of projects on your wishlist.
Like everything else, the cost of shelving units has leaped upwards in the past few years. Now that lumber has dropped from its nauseating high point, gain storage space and take pride in making your own wood shelving for the garage or any other space.
You can scale this plan to use in the pantry, closet, or laundry room. This is a basic design using mostly 2x4 lumber.
The classic farmhouse table takes many forms. This one relies on wide-plank boards for the top surface and a basic 2x4 and 4x4 construction for the base. Although it's a simple design, it offers clean lines and a popular appeal.
The woodworking plan provides all the information, tools, and materials you'll need for a new table that will cost you less than a few hundred bucks.
Whatever you're looking for, this is the place to start. With over 3,300 free plans and more available for purchase, you'll have a lifetime of projects to keep you busy. From toys for tots to bespoke furniture pieces, there are projects for every woodworking level.
Accessorize the home or make gifts of bowls, mirrors, clocks, and signs. Advance your skills with cabinets, shelves, tables, and desks. Spruce up the outdoors with arbors, pergolas, gazebos, benches, swings, and planters. Add storage with a closet organizer or shelving for the garage.
You can even find plans to build a workshop, shed, cabin, or garage.
This site designates itself as a place to design, learn, create, and build. It caters primarily to beginners in the woodworking craft, as well as several other fields of practice.
You'll find free designs for an assortment of categories, including animal houses, arts and crafts accessories, baby supplies and toys, fitness, furniture, garden, kitchen, 3D puzzles, office accessories, playground equipment, and much more.
When made to plan, this is an ornate bench with an antique look. As with any of these plans, you can make changes to suit your needs and preferences.
In addition to a sitting area, it provides storage underneath the hinged lid. Use it in the entry, and store throw pillows in the living room. Place it at the foot of the bed, or use it as a piano bench.
This is a unique project that results in both a chair and a sleeping area. Although it might seem intimidating, when you look closer, you'll see the basic process is replicated, creating three sections of the bed that are connected with hinges so the bed frame can fold into a compact chair.
If the plan isn't exactly what you're looking for, feel free to tweak the recipe a bit. The text even outlines a few other options for you to consider.
If you need a table for a small space, this is a great option. By design, gateleg, or drop leaf, tables fold down on each side to make them more compact.
This plan is for a side table, but the same process can be scaled for a dining-size table. The design and the building process are advanced, so keep this one on the 'to-do' list if you're still learning about joints, using a lathe, and pegging and pinning.
It's in the name. This database of free woodworking designs grows by the day. You'll find basic wood ball ornaments and other holiday decor alongside tables for the kitchen, living room, or bedroom.
If you need designs for chairs, cabinets, boxes, bookcases, bars, bbq stands, or bunk beds, Free Woodworking Plan has you covered.
For the outdoors, you'll find plans for bird feeders, benches, storage solutions, greenhouses, sheds, decks, wheelchair ramps, privacy screens, and more.
There are actually several styles of bunk beds to choose from. Scour the options to see what's right for your situation. You might want a single elevated bed, two beds stacked on top of each other, or even a triple bunk bed.
You can even find plans for a bunk bed with a desk underneath or an elevated cabin that functions as a bunk bed too.
There are just too many to choose from here. With different materials, finishes, and styles, it's best to peruse the options yourself in order to pinpoint one that speaks to your needs.
There's a built-in dresser for your closet or other space, a few modern dresser designs, long six-drawer plans or tall four-drawer options, and some stand-up five-drawer dressers too.
Again there are myriad options to select from. Create a built-in bar indoors or outdoors. You can choose a wall-mounted design or fully equip the man-cave with a bar and seating area. On a smaller scale, you can build a fold-down Murphy bar for the deck or create a free-standing drink service cart.
If you want to be a woodsmith, this is where to get started. Although there are free woodworking plans for everyday home items, there are also videos, helpful tips, and even courses you can take through the site.
Learn how to care for your tools, make jigs for other projects, and create your own push blocks and other workshop aids.
Get that shop organized when you make your own sandpaper storage, saw blade storage rack, and even your own sanding block.
You have to hunt and peck a bit on this site to find the free plans, but it's a great resource if those available are what you're looking for. You will need to provide an email and mailing address to access free plans.
Woodworking is a rewarding skill that serves you well in DIY home projects. With experience, you can create well-built furniture for yourself, gifts, or for sale. Start with the skills you have and use plans like the ones mentioned above to continually develop an understanding of new skills, tools, and techniques.
Get your shop set up after reading 15 Essential Woodworking Tools and get some pointers in our related article, Stepping Up Your Woodworking Technique.
Happy Woodworking!