Which Electric Car Is Most Reliable?
While electric vehicles aren't new on the automotive market, they're new enough that it's difficult to get comprehensive data on reliability.
In addition to most EVs being on the road for less than ten years, innovations are bringing new models to the mix every year. When sinking tens of thousands of dollars (or more) into a vehicle, buyers want to know it's going to be a reliable investment.
With this in mind, we've gathered the most recent data to arm you with information in your hunt for your next (or first) electric vehicle.
Which Electric Car Has the Longest Range?
We'll engage in a conversation about reliability below. Remember, though, reliability is only one factor in your decision. Price, range, size, and features all play a role too, so use reliability ratings as a starting point, but consider what's right for you.
If range rises to the top of your priority list, you'll want to look at the Lucid Air, a sexy, 933 hp ride that will race zero to 60 in 2.7 seconds. It's got everything an adrenaline junkie with a love for sporty rides might want, including a 520 mile range. However, the $170,000 price tag might be a setback.
The Tesla Model S comes in second in range capacity at 405 miles. It's a bit more affordable than the Lucid Air, with a starting price of (only) $106,000. Of course, it comes with more than just an extended range, including a sleek design, impressive performance, and luxury comfort.
Tesla also takes the third spot in the high-range-capacity ratings competition with the Long Range Model 3 and its 358-mile distances. Starting at about $60,000, it makes for a comparatively affordable option in the long-range category.
Another luxury ride, the Mercedes EQS, ranks fourth in range ability, coming in at 350 miles. If you don't like the nearly $104,000 starting price, keep your eye on the market. Mercedes is expected to be a player with a range of options in the near future.
Rounding out the top five electric vehicles for longest range is the Tesla Model X. By now you're probably starting to see why the company is intertwined with any discussion about electric vehicles. In the case of the Model X, you can appreciate the 348 mile range rating even if you don't like the $122,000 price tag.
What's the Best Electric Car for the Money?
In reality, most new electric vehicles are incredibly reliable. There are, overall, few issues, and those that do pop up are typically covered by the manufacturer's warranty. This isn't so different from gas-powered vehicles.
Interestingly, price and reliability don't necessarily go hand in hand. It's fair to say luxury and price have a positive correlation, but many of the vehicles rated highly fall within mid-range pricing.
The information below is a compilation of the generally highest rated electric vehicles on the market from reliable sources like Consumer Reports, LeafScore, WhatCar, CarMax, Car and Driver, JD Powers, and others.
These sites use direct feedback from EV owners in their assessments. Let's get to the info!
Porsche Taycan
You may not expect a name like Porsche in the top-rated most reliable electric vehicles, but in the years since its first release in 2019, the Taycan has offered a sporty design, tight handling, and a strong reliability record. All of this comes with a hefty price tag, starting at just over $125,000.
Hyundai Kona
The Kona is a popular choice for the approachable price tag (starting around $46,000). It's a top-selling model with a hatchback design. The quick-charging feature is notable for keeping drivers on the go without long downtimes.
The range (258) is average compared to others in the class, but the price tag, starting at $34,000, makes it a great option for those with consistent commutes.
Ford Mustang Mach-E
The Ford Mustang is a timeless muscle car model with a modern flair. In electric form, it's popular and holds true to a strong reliability record. Owners report a punchy drive with horsepower starting at 290 and a quick sprint off the line.
Starting at just over $51,000, the Mach-E isn't the cheapest in the lineup, but it does offer a chance to relive your youth.
Chevrolet Bolt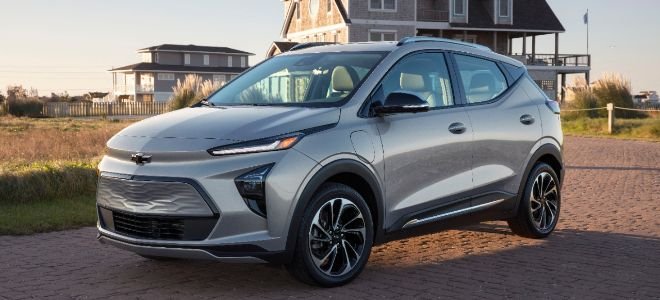 The Bolt is quickly becoming an icon in the electric vehicle world. Next to Tesla, it might be the most iconic name associated with the industry.
It burst onto the scene (like a lightning bolt:) and has held its position as one of the most-reliable and affordable options. The Bolt offers a high value with a balance of comfort and performance.
Owners report high satisfaction for driving pleasure and over 250 miles of range for a price tag starting at around $34,000. The battery has a range of over 250 miles and a quick-charging feature that will get you an additional 100 miles in less than ½ hour.
We're also compelled to mention the Chevrolet Bolt EUV, which is the electric utility vehicle. This is a larger version of the Bolt, landing in the crossover class. Like the Bolt, it's got some get up and go with 200hp and offers just under 250 miles of range for a price starting around $40,000.
Both models shared a debacle with the battery packs, starting in 2017 and continuing into this year. However, the company has aggressively addressed the issue, sending out recalls and making replacements. Even with these issues, the Bolt is consistently on 'Most Reliable EVs' lists.
Tesla 3
If there's one notable name in the industry, Tesla is it. Credited with the explosion of EV car popularity, Tesla has certainly beat to its own drum.
There are several models of Tesla electric vehicles to choose from. They cover a range of classes, but all are a bit pricier than the counterparts in each class. The Tesla 3 starts at about $45,000 without any extras. It's unlikely you'll drive it off the lot for that price.
There's an argument about how the Tesla 3 performs compared to similar EVs too. But in the end, its popularity comes from a balance of exceptional range, reliable performance, comfort, and a luxurious ride.
For all those reasons, the Tesla 3 ranks in the top three of most EV performance-related lists. There are two versions of the Tesla 3. The rear-wheel-drive version (the base model) covers a range of around 272 miles while the extended range, all-wheel drive lasts 358 miles.
A distinguishing factor exclusive to Tesla is the vast network of Superchargers--Tesla's version of charging stations. This allows Tesla owners reliable access to charges even when away from home. With a quick 15 minute plug in, a Tesla 3 can add nearly 200 miles of range.
Nissan Leaf
It's another name tightly associated with the electric vehicle market. The Leaf came into the competition early with one of the first mass-market options. Inasmuch, it's been an option since early on. That also means there's more data on reliability since they've been on the road for around a decade.
Early on, the leaf may not have drawn attention for sex appeal, but newer models have acquired a sportier look.
The range is lower than many cars in its class, at around 225 miles. However, the base price starts around $30,000, so if range and looks aren't the top priorities, it's a highly-rated option for reliability that might suit your needs.
Hyundai IONIQ 5
The Ioniq 5 is turning heads for a variety of reasons. It's already earned at least two awards for SUV of the year. With a base price of $47,000, it's available in a few drivetrain options.
The base model has a range of around 220 miles while the long-range option is rated for over 300. The all-wheel drive option falls in the middle at 257 miles.
Kia EV6
In its early days, Kia was known as a budget car brand. Now it's rebranding itself as a reliable competitor in the electric car market.
The EV6 is in the same class as the Ioniq 5, and shares many similarities, including the same types of drivetrain options.
However, the model is notably sportier than the Hyundai.
It is equipped to accept quick charges and has a base sticker price of around $45,000.
Kia Niro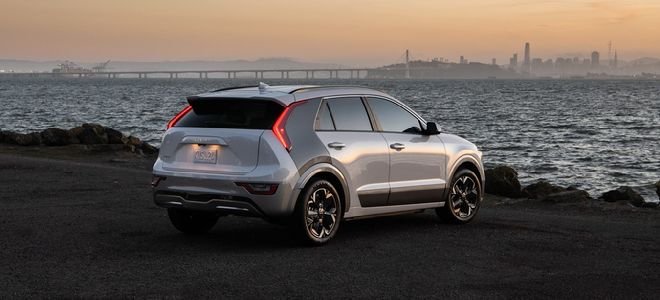 It may be the most popular EV you've never heard of. In total sales, the South Korean Kia Niro comes in second in the United States, perhaps only because Teslas are easier to get ahold of domestically.
The Niro has been phenomenally popular and is highly ranked for both performance and reliability. Across the board, the Niro matches horsepower, charging capacity, and range of its competitors. With a base price that matches those in the $45,000 range, it's an option that's expected to stay near the top of the heap.
In fact, according to the respective JD Power studies, the Niro and Tesla 3 are the top-rated vehicles in the EV market.
Although the two brands compete for sales in a general sense, they are considered to fall into different classes so they can both take top spot in their respective arenas. While the Tesla 3 ranks high as a premium EV, the Niro takes top prize as a mass-market option.
Other Teslas
It's worth mentioning that Teslas are on most EV rankings. For example, the Model Y and Model S came in second and third place in the aforementioned JD Power rankings.
Audi E-tron GT
The 2022 Audi E-tron GT shares some body-style characteristics with the notable Porsche Taycan. Along with the sporty look, the dual electric motors crank out a combined output of 469 hp. There's also a higher-performance Audi RS E-tron GT that shows up with 637 hp.
The E-tron placed next, below the Tesla options, for overall customer satisfaction in the JD Power study.
Notable Hybrids
Plug-in hybrids offer a bridge between gas-powered and fully electric. With a charged battery, these hybrids hold off on gas guzzling. However, if you're without a power source, you won't be stuck because they also have a traditional engine.
Honda Insight
If you've been in the car market at any point, you'll recognize Honda as a reliable brand, known for making cars that achieve impressively high miles in their lifetimes.
It appears the detour into the electric vehicle market carries the same expectations. The Insight is actually a plug in hybrid. Inasmuch, it brings an impressive 500 mile range.
It doesn't score high for style points and it's likely to get waxed off the line with 151 horsepower, but if slow, steady, and reliable is your wheelhouse, the affordably-priced Insight might be the answer for you. (Starting at $25,700)
Prius Prime
Talk about a name that's ubiquitous in the electric vehicle conversation. Prius made a name for itself early on, and there's no evidence it's going anywhere anytime soon.
Within the hybrid category, Prius plugs along in the middle of the pack. It has some nice comfort and performance features, gets great gas mileage, and offers a large cargo space.
It's not described as best in class for the engine performance or the battery function, but it does both well enough to place it high in the reliability and performance categories overall.
Plus, with a base price around $28,000, it's an affordable option to consider.
Toyota Yaris
Another distinguished carmaker, Toyota is aligned with quality and long-lasting durability. The hybrid Yaris is no exception, nudging out the Tesla 3 as the most reliable car on a list by WhatCar that merges electric and hybrid options.
This is a bit of a cheat since the Yaris isn't a plug-in hybrid, but instead automatically recharges the battery in order to increase fuel efficiency without an outlet. If you're not ready to go fully electric or compromise with a plug-in hybrid, the Yaris tops the list of options.
It appears electric and hybrid vehicles are here to stay. With legislation pushing hard to drive out gas-powered vehicles altogether in some areas, we may all be making our EV choices sooner than later.
Better understand what you're facing by reading Maintenance and Safety of Electric Vehicles and How to Care for an Electric Car.