Wood Fencing 101
To ensure our content is always up-to-date with current information, best practices, and professional advice, articles are routinely reviewed by industry experts with years of hands-on experience.

Reviewed by

on Jun 26, 2023
Attractive, versatile, and creative, a wood fence system can provide years of protection, privacy, and value. The sheer beauty of wood is the primary reason to select it as your fencing material. A properly designed, finely crafted, and skillfully installed wood fence takes on an individual quality all its own-independent of its surroundings.
Matched to the style of your house and grounds, it will enhance your home's appearance and add to its value. But as with any investment, it pays to do your homework. Wood fencing comes in a wide range of qualities, colors, sizes, and types. Before you buy, spend a little time getting to know what's currently available. You'll get the most value for your money. And the right fence for your needs.
What Material Should You Choose?
Most fences are made from wood. It's affordable, versatile, and easy to obtain. It comes in uniform sizes, and it's the easiest material for a homeowner to use. You can finish it with paint or stain. Or, if you use treated wood or cedar, you can let it age to a natural color.
Proper installation is the key to an attractive, long-lasting fence. The single greatest problem with wood fences is premature failure of the posts. Wood does not hold up well to ground contact and once the posts begin to fail, the appearance of the fence is compromised. The best solution is to use steel posts to construct your wood fence. At the very least, be sure you use quality posts and rails made from softwoods that are naturally rot resistant such as cedar or redwood, or those that have been pressure-treated to limit rotting. Buy hot-dip-galvanized, aluminum, and stainless steel fasteners, which are all corrosion-resistant. Other types are not recommended because they can rust and disintegrate, or react adversely with the natural preservative oils present in some wood.
The appearance quality of the boards you choose will make all the difference in the way your finished wood fence looks. You'll find different grades that meet the quality specifications of published grading rules or product standards. These standards have been developed to ensure the structural integrity and appearance you'd expect for the intended use of the product.
Typical Wood Grade Descriptions Are:
Clear

- Basic natural characteristics make it a good choice when you want a fence board with the highest-quality appearance. This is the most expensive of all the grades mentioned.

Premium

(also referred to as #1 two face) - The occasional small tight knot adds interest to this type of fence. This lumber is graded for the same appearance on both faces (sides) and edges.

Select

(#1 one face) - The same as premium two face, it allows limited defect characteristics on the other face.

Standard

- Allows more appearance defects than select or premium on one graded face and limited defect characteristics on the other face.

Standard and Better

- Allows more appearance defects than select or premium on one graded face and limited defect characteristics on the other face.

Quality

- This economy grade has greater limiting characteristics and is the lowest cost. Knots that may become knotholes can be expected with this grade of product.
Remember that one key to an attractive fence is uniformity. For example, when using rough-sawn lumber, uniform natural characteristics will make the finished project more pleasing. The grade of lumber will determine the number and size of defects. If you opt for lower cost grades, you should expect defects to be consistent with that grade.
Some retailers will permit you to sort through the lumber stacks, selecting only the very best pieces to your liking. If you are having a fence built, you should expect the contractor to only reject those boards that do not fall within the grading rules for the product you selected. It is important that you and your contractor agree on what your wood fence will look like when completed.
Upkeep for a wood fence system depends on how you'd like your fence to look in years to come. Do you want it to match the color of your house? Show off the hard work you've done with landscaping? Or weather naturally to a silver gray? Your goals will determine your maintenance costs. Using a good grade of materials and allowing them to weather naturally will give you a long-lasting fence with no maintenance. If you paint the fence, your maintenance costs will depend on the painting cycle of your house.
Which Style Suits Your Home?
Wood fencing materials let you choose from a wide range of styles limited only by your imagination. Consider all the possibilities before you decide. And remember that a properly designed and well-built wood fence can complement your home so naturally it will look like it grew right in place.
The available styles are:
Solid Board

- Available with a cap rail for an estate look, this style also can be arched or scalloped for a flowing look that highlights the post, which can be finished with a decorative topping.

Shadowbox

- This privacy fence allows breezes to pass through, looks attractive from both sides and is easy to build.

Spaced-Picket

- Popular for its versatility and perhaps the most traditional of American fences, it makes a good border while providing an open view.

Lattice Top

- This privacy fence allows privacy yet provides vision through the lattice top. Lattice's open design breaks a strong wind into a light breeze.

Stockade

- Another popular early American style, it offers a classic New England look.

Basket Weave

- Attractive when viewed from either side, it is very strong and makes an appealing privacy fence. It's also an attractive backdrop for plantings.

Vertical Board on Board

- Another privacy fence, its attractive design requires three rails with boards attached to each side.

Post and Rail

- This fence combines an open view with exceptional sturdiness. The different types available allow you to create a unique look for your landscape. Add wire mesh inside the fence for containment of pets or children.
Use the following types to create a rustic boundary or accent for your property:
Split Rail

- Western Red Cedar or West Virginia Split rail in either two or three rail design. A true Appalachian look.

Round Doweled Post & Rail

- This system creates a uniform appearance that flows with your landscape.

Ranch Rail

- A popular look for equestrian containment. This system can be finished in black or white.

Guard Rail

- Traditional decorative fence system for parking lots, parks, or golf courses.
Adding Your Gate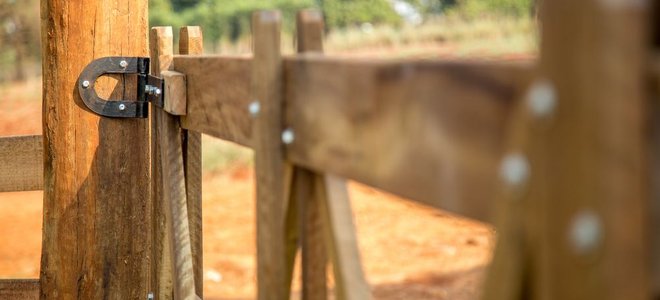 It's the most important part of your fence and since it's also the only moving part, it's susceptible to sagging, sticking, or slipping out of alignment. Properly designed gates will use quality hardware to help maintain proper operation.
Gate posts are critical for wood fences. Woods tendency to warp and twist can cause any gate design to become misaligned. Steel posts are the solution for natural warping and twisting of wood posts.

Make sure to size your gate post so it can handle the weight of a gate. Wider gates require larger posts that will not bend under the stress created from opening and closing the gate.
Several types of gate hardware are available:
Gate Hardware that is coated with an epoxy and then a polyester finish will yield long term resistance against fading and rust.

Another option is gate hardware made from molded plastic and stainless steel. Benefits of this system are you can lock the gate like your front door, reliable latching action with a sleek design, and 100 percent rust-free components.
Gate Frames are another source of failure with wood gates. The following solutions will result in a wood gate that will perform to your expectations:
For a wood frame gate use a gate sag prevention kit that includes a turnbuckle for adjustments as the gate wears.

For sturdy framework, your rails are attached to the steel gate frame and then the boards are attached to the gate rails.
Customize Your Fence
Workability and adaptability are two key benefits of wood fence systems. These benefits allow you or your design professional to create a unique system. Your fence section can be flat, arched or scalloped. Boards or pickets can be topped to match or create a design. Fence posts can even be topped to match your boards. Left as a flattop post, the addition of unique post caps will put the last finished detail on your fence.
Caprails and fascia boards add elegance and create a more formal look. Arbors, trolls, and pergolas can be incorporated with fence systems creating your own personal touch and look.
Courtesy of Master Halco